Revisionist historians have now ascertained there never were any snakes for St. Patrick to chase out of Ireland. But even if there had been, it's likewise true that bagpipes had yet to make their way to the British Isles during his day. Thus, the bagpipes can in no way be blamed for the dearth of snakes on the Emerald Isle.
But traditions have never much cared for historical accuracy. As a result, St. Patrick's Day is celebrated with music played on the great highland bagpipe, an instrument of war that's now decidedly associated with the Scots.
Leading the charge down State Street for The Santa Barbara Independent's 6th Annual St. Patrick's Day Stroll will be the Santa Barbara Sheriff's Pipe and Drum Corps, which has been joyfully "disturbing the peace" since its founding in 2007.
Serving as ground zero for this collection of seven pipers and six drummers is Bob Guthrie, who during the last 25 years has taught more Santa Barbarans how to play bagpipe than any 10 other instructors combined. Guthrie, now approaching his 90th birthday, credits his Scottish heritage with propelling his unique musical odyssey. But the Irish, he's quick to acknowledge, have had their own bagpipes and robust piping tradition. The overlap between the two, he added, is vast. Putting it differently, Guthrie's longtime musical co-conspirator, Tom Strelich, noted, "The joke is that the Irish gave the Scots the pipes as a joke, but that the Scots didn't get that it was a joke." Strelich was the first piper, with his wife, Allison, on snare drum, to lead the premier Indy Stroll in 2008.
Trim and fit with his hair whooshed back at the sides, Guthrie comes across in person as both tough and twinkly. In conversation, he's given to unvarnished appraisals, blunt assessments, and intricate, detailed historical asides that span both the centuries and the decades. Strewn throughout the room where he teaches in his Mission Canyon home are countless bagpipes flopped over on their sides. Scores of antique rifles ​— ​or replicas he built himself ​— ​line the walls. A competitive shooter and a "black powder" buff, Guthrie is positively encyclopedic on the subject of warfare and weaponry.
That should come as little surprise. Guthrie was born in Leavenworth, Kansas, an army brat, whose father retired with the rank of colonel in the coast artillery ​— ​the only branch of the services never to have fired upon the enemy in battle. The family moved from base to base. "I didn't grow up anywhere in particular," Guthrie recalled. During World War II, he enlisted and saw serious action, flying 35 bombing missions over Europe. He had just been assigned to the South Pacific when the United States dropped two atom bombs and Japan surrendered. After the war, Guthrie went to college, worked as a border-patrol officer in Texas, and did a stint as a civilian contractor at Norton Air Force base in Riverside.
Guthrie then moved to Santa Barbara; his parents had relocated here in 1948. He did a little of everything ​— ​worked at a gas station, sold hi-fi systems, installed TV antennas, and dove for abalone. He became a sheriff's deputy in the late 1950s and worked his way up to detective by the time he quit six years later. In 1965, Guthrie agreed to run for sheriff against the incumbent Jimmy Webster. But when it turned out he wasn't the wild-eyed right-winger his backers had hoped, campaign donations dried up. Still, he managed to secure 15 percent of the vote.
Guthrie made wetsuits, which he marketed as "Deep Thought Wetsuits." He bought Bob's Diving Locker, where he trained scuba divers and sold scuba equipment. He sold the company in 1990.
In 1955, Guthrie and clan rented a place on Mountain Drive from Bobby Hyde, the infamously iconic bohemian, who was famous for his parties celebrating Scottish poet Robert Burns. Guthrie, who tinkled about on the piano as a child, would not begin his musical adventure with the bagpipes until 1960. As to why he was drawn to them, Guthrie is less than expansive. "I don't know. Why does anyone start anything they do?" he posed.
One morning, he recalled, the sound of pipes came washing in from across the canyon. The player, it turned out, was a family acquaintance and a quartermaster in the pipe corps then sponsored by the 7 Up bottling company headquartered in Carpinteria at that time. Bankrolling the corps ​— ​the cost of kilts and other essential accessories quickly adds up ​— ​was Walter B. Truman. Guthrie quickly became sucked in. "We had 25 pipers in that band," he recalled. "Not one was competition grade. Mostly, we just wanted to wear the fancy outfits and parade around a lot." Guthrie is mostly self-taught; he learned by making mistakes. "It took me years to get things right," he said. "I know how to do things wrong, so I can tell when someone else is, too."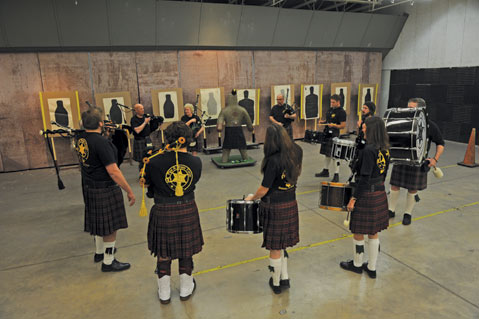 By Paul Wellman