Just over 231 years ago, on the 21st day of April 1782, the ambitious Franciscan monk Junípero Serra; California's first governor, Felipe de Neve; and a Mexican-born soldier of the Spanish crown named José Francisco Ortega stood atop a small hill in the shadow of a recently erected wooden cross, looking out over the ocean, oak groves, nearby lagoon, and coastal Chumash village of Syuxtun, whose politically savvy chief Yanonalit had proved quite friendly. With 40 or so leather-coated soldiers and their weary families looking on, Serra said a simple mass, blessed the ground beneath them, and set in motion changes that would alter the coastline forever.
"And so was begun," wrote Serra in a letter one week later, "this presidio … dedicated to the most glorious Virgin and Martyr Santa Barbara."
In the months that followed, Ortega, the presidio's first comandante, directed his soldiers and some able-bodied Chumash (who were paid glass beads for their efforts) in raising walls of mud and stick near the corner of today's Canon Perdido and Santa Barbara streets, laying the first foundations of a neighborhood that would become a center of civic, social, and cultural life in Santa Barbara for the centuries to come. In the nearly two dozen decades since, as the land that today houses El Presidio State Park changed hands from Yanonalit's people to Spain to Mexico to the United States, Spanish colonists gave way to Californio settlers, who fanned out to set up adobes and ranchos throughout the region. Then came the Yankees by boat and by foot, waves of Chinese and Japanese immigrants, an art school of regional renown, and a bustling hub of commercial and residential activity, way before the term "mixed-use" was ever invented.
But by the 1960s, as a modernizing Santa Barbara lurched away from its past and toward multistory office buildings, apartment complexes, and otherwise often nondescript urban development, the presidio neighborhood's colorful past seemed in danger of slipping away. Those who wanted to uncover the deeper histories, preserve what was left, and promote its importance to residents and tourists alike started to coalesce around Pearl Chase, Santa Barbara's hallowed hellraiser of historical righteousness and the woman responsible for the rise of our red-tiled roofs. Come January 18, 1963, Chase had gathered enough momentum and money to form the Santa Barbara Trust for Historic Preservation (SBTHP), which set about unearthing the forgotten presidio foundations, buying up associated properties in the neighborhood, and working with Sacramento to establish the whole complex as a state park.
Fifty years later, Chase's vision remains a work very much in progress, but the neighborhood survives as one of downtown's liveliest destinations, a place where real and reconstructed history smashes every second into contemporary life. Due to the efforts of "the trust," as SBTHP is best known colloquially, the bulk of five square city blocks ​— ​from State to Garden, Carrillo to De la Guerra streets ​— ​enjoys some level of historically minded protection, ensuring that those old adobes won't ever be razed for office space and that the telltale touches of yesteryear won't be allowed to fade away.
That preservation work is done in conjunction with California State Parks, which officially takes ownership of the land once the trust purchases properties. But due to special legislation crafted by state senator Robert Lagomarsino in the early 1970s, the trust continues to operate the park and manage the real estate holdings as a concessionaire. It's one of the only such arrangements in the state, largely due to the fact that the trust is powered by a nearly $6 million endowment and can afford to do the work that a state department dealing with up-and-down budgets cannot. And it works, according to Rich Rozzelle, superintendent of the state parks' Channel Coast District and a 25-year veteran of the system who only recently has seen other nonprofits pop up to help other parks. He explained, "It's a very positive, productive relationship."
But saving the past is just half the job: Recovering Santa Barbara's old stories, whether through archaeology or scholarly research, and then retelling them to all of us, whether via interpretive exhibits or engaging lectures, remains an even more prominent part of the trust's impact. And in recent years, the trust's mission expanded geographically and operationally when they purchased the Santa Inés Mission Mills and adjacent olive orchards near Solvang, establishing a foothold in the Santa Ynez Valley and the source of a new olive oil production project.
"This is a model for how a nonprofit can partner with a state park to bring in funding and to bring in people," said Keith Mautino, a trust boardmember and former member of the county's Historic Landmarks Commission whose grandfather settled in Lompoc in the 1800s and whose mother was St. Barbara in the 1949 Old Spanish Days Fiesta. "It's a model for how the two can get together and move forward rather than stall and potentially close."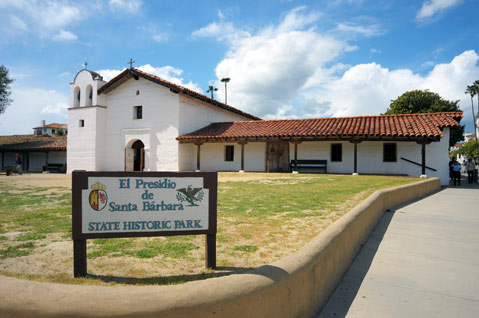 By Paul Wellman