Jay Schwartz was first introduced to I Madonnari in 1992 when he was walking by a locker room in the UCSB Arts complex and spied a poster announcing a call for artists at the I Madonnari festival. At the time Schwartz was involved with an independent study project under Arts Professor Gary Brown and experimenting with large murals in pastel on paper he had taped to the wall — creating what he called chalk pastel murals.
"The idea of working on the ground to create something that I knew wouldn't last more than a few days after I finished it sort of intrigued me," Schwartz remembered. "It was also a different way of looking at using pastels from the murals I'd been doing and it sounded pretty cool." Not too long after he called Kathy Koury, the festival director, and made himself available.
Having no clue what he was in for, Schwartz showed up totally unprepared. "No hat, no sunscreen, no gloves, no knee pads," he said with a laugh. "The sponsor was Merrill Lynch," he added, "and they wanted something for the 200th anniversary of the stock market. I decided to do a representation of a bull and bear, and it actually turned out pretty nice and I knew I was hooked."
Fortunately, Schwartz was able to make Santa Barbara his home after graduating with a degree in fine arts that year and soon was picking up jobs as a freelance artist, an occupation which allowed him to return to work his magic at the I Madonnari festival each Memorial Day weekend and eventually to morph his freelance work into what is now a very successful design and marketing company known as IdeaWork Studio.
Over the past few years Schwartz has focused on the works of Thomas Hart Benton, an American painter and muralist whose fluid, sculptured figures often depicted everyday people in scenes representing everyday life. "I saw an imperfect, flowing style in Benton," he explained, "I loved the colors, the shapes, the faces, the way he minimized the detail but evoked powerful emotions through the use of color and design. It fit what I liked doing perfectly."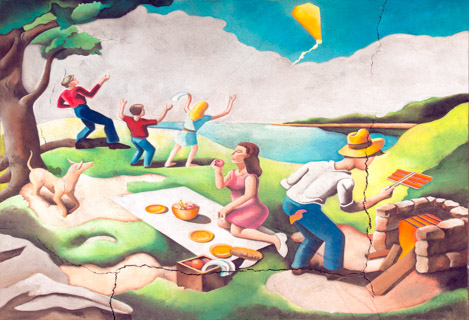 By Ray Ford