Nicholas Miller, Vice President of Sales and Marketing for Bien Nacido Vineyards, has been anointed one of the nation's top tastemakers by the influential wine consumer publication, The Wine Enthusiast, in the "Top 40 under 40" issue.
---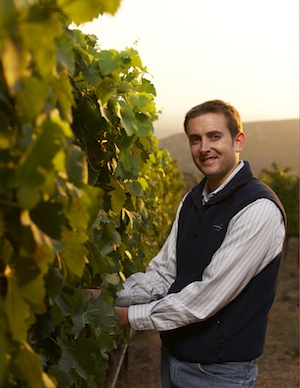 Bien Nacido Vineyards
Hailed as "one of the rising young stars that is changing the way the world drinks," Miller is listed among some of the top sommeliers, winemakers and wine media moguls in the nation. The magazine goes on to say that Miller…"is barely 33 years old and already has emerged as a powerhouse in California wine. As effective head of his family's Bien Nacido, French Camp and Solomon Hills vineyards, he not only grows some of the state's most coveted fruit, he actively encourages a new generation of young winemakers to seek it out."
Miller also recently appeared on the front cover of American Fruit Grower magazine, announcing that he is one of the next generation of growers that is poised to "move the industry forward."
Nicholas Miller is the second son of Steve Miller. As a member of the fifth generation to be involved in Californian agriculture, he feels strongly connected to the industry. During high school and college, he spent several summers working with the family business. Upon graduating from Bowdoin College, he took a position with a marketing consulting firm in Boston before finally returning to California to work full-time for the family business in 2004.
To learn more about Bien Nacido Vineyards and Nicholas Miller, please visit www.biennacidovineyards.com.