Entering the small, ungated community that brothers Tommy and Michael Cantillon call home, it's immediately striking how cookie-cutter pristine the place is. Tucked less than a mile off the 101, their little slice of prefab heaven could just as well be Any­town, U.S.A., save for the slight ocean breeze and the looming shadow cast by UCSB's infamously debauched Santa Catalina dorms. The house itself is a modest three-bedroom that the guys share with a friend. It's clean, sparsely furnished, and about what you'd expect from a place occupied by a group of affable bachelors.
Once you cross the threshold, though, it quickly becomes apparent that the Cantillon boys have spent the better part of the last few months on the road. The fridge is bare, save for a few flats of Vitamin Water, and their garage-cum–practice studio is overflowing with projects, from promotional posters to CD mailers to recording gear. This week the brothers, together with bandmates Matt Palermo and Steve Libby, will release their third studio album as Tommy & The High Pilots. The record, titled Only Human, is being put out by Redbird Records, a small record label in St. Louis, Missouri.
"We're 'putting it out on Redbird Records,'" laughs Palermo, making exaggerated air quotes as he speaks. In essence, the band explains, Only Human is an independent release. Recording, mixing, mastering, and packaging were all paid for by the band, the label, and their fans through a recent (and wildly successful) online crowd-sourcing campaign through PledgeMusic.
Listening to the 10 crisp, expansive tracks that make up Only Human, you're immediately struck by how professional the whole thing sounds. It's a big, buoyant, and catchy album that feels about as far removed from an "indie record" as it gets. But then again, this isn't The High Pilots' first rodeo.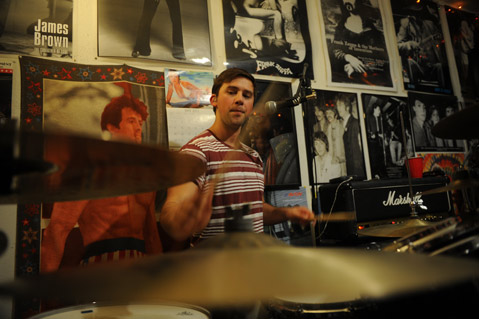 By Paul Wellman