Sometimes, in the heat of competition and amid concerns over standings and rankings, people lose sight of a vital function of sports — that they're supposed to be fun.
That was not a problem at two Santa Barbara events last weekend. Smiles abounded at the Flag Football Challengers Super Bowl and at the Special Olympics Regional Soccer Tournament.
On the Bishop Diego High field, you could see an autistic boy run for a touchdown, while a cheerleader with Down syndrome waved a pom-pom, and if that didn't warm your heart, you needed a transplant.
"The same dream, the same game," is the motto of the Central Coast Challengers, an organization that provides sports for children, ages 5 to 18, with various physical, developmental, and intellectual disabilities. They are paired up with fully developed peers, a connection that benefits everybody. It started with the Challenger Division of Little League baseball in the spring.
"The kids needed something to do in the fall," said Retta Slay, founder and boardmember of the Challengers. "We chartered the Pop Warner flag football program." It's a non-contact version of the sport, making it safe and fun for the participants, who numbered about 20 this season. "They get it," Slay said. "Most of them watch football with their families."
"This is by far the best thing I've ever done," said Taylor Talkington, who heads the volunteer coaching staff. Talkington was a star quarterback at San Marcos High three decades ago and also a former golf pro at Montecito Country Club. An opportunity to be involved in Challenger sports was an incentive for him to relocate from the L.A. area back to Santa Barbara.
Middle schoolers known as "Dudes on Duty" served as buddies on the field. Saturday's game between the Seahawks and the Colts ended in a 42-42 tie.
There also was a cheerleading squad of six girls and one smart boy. "My son Keaton decided not to play football," Slay said. "He became a cheerleader because he likes to be around the girls."
Santa Barbara hosted nine teams from Ventura to San Luis Obispo in the first Special Olympics Regional Soccer Tournament at La Cumbre Middle School. The concentration and delight in the faces of the 78 athletes gave a new meaning to what the Brazilians call "the beautiful game." Besides short games, there were skills competitions in dribbling, kicking, and passing.
"I love soccer and always wanted to get it going here," said Tim Philibosian, regional sports manager for Special Olympics Santa Barbara. The fall school games on November 22 at Girsh Park will be another opportunity for youngsters with special needs to enjoy competing in soccer.
Helping out at La Cumbre last Sunday were members of the Westmont College women's soccer team. The Warriors, ranked No. 3 nationally in the NAIA, will host a conference tournament match Friday, November 8, at 2 p.m. They hope to open the national tournament with a home match on November 23.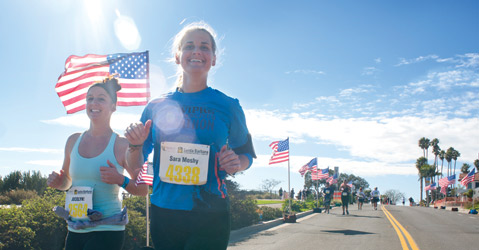 CHRIS HENRY PHOTOGRAPHY