A labor union that has generated considerable attention and backlash over the "SHAME" banners it plants throughout Santa Barbara and beyond may have crossed a legal line it regularly toes. Two men with the Southwest Regional Council of Carpenters — which is headquarted in Los Angeles, has 65,000 members in six states, and aggressively pickets developers, contractors, business owners, and anyone else it feels has wrongfully hired nonunion workers — are accused of breaking into the locked dumpster of a Santa Barbara construction firm and stealing client lists and other privileged material.
Though a nearby resident witnessed the reported nighttime burglary of Frank Schipper Construction on East Cota Street and watched the men drive away in a car registered to the union, a lack of additional info — including more detailed descriptions of the suspects and questions about the actual value of what was taken — stopped the police investigation before it really began, which frustrates Schipper president Paul Wieckowski. "The union's attitude is: 'We're going to do what we want to do, and you can't stop us,'" said Wieckowski, who complained he's dealt with union members trespassing on his job sites and hassling his employees for years. "And the police are unwilling to do anything about it," he claimed.
Up until the alleged theft, Wieckowski said he and other contractors around town had wondered how the unionized carpenters were able to so accurately pinpoint their client rosters, then send the clients letters making claims of unfair labor practices against the bid-winning firms and their subcontractors. "I always thought there was a spy," Wieckowski explained. Schipper — which has worked on Santa Barbara City College, the New Victoria Theatre, Music Academy of the West, as well as a number of nonprofits — hires both union and nonunion subcontractors, depending on the size and scope of the work, Wieckowski said. "Whoever does the job well and for a good price, we want them," he stated.
Bump in the Night
At around 10:30 p.m. on September 3, the Santa Barbara Police Department's incident report reads, a man living in a condo above the Schipper office awoke to the sound of his dog barking. He went to his balcony and looked down to see two white males in their forties — one described as heavyset and wearing a dark ball cap with a red bill, the other with light, curly hair and wearing glasses — putting paperwork from the dumpster into bags and then loading the bags into a small, white SUV. Wieckowski said the dumpster, used by Schipper for recycling mostly shredded documents, is secured by a locking bar fastened with a padlock.
The witness headed downstairs to confront the men, the report continues, but by the time he reached the ground floor they were backing down the driveway. Before they could turn out of sight, the witnesses typed the car's license plate on his iPhone, which officers photographed when they responded the next day. "A check of the plate returned to a 2005 Ford registered to the Southwest Regional Council of Carpenters in Los Angeles," the report states. This evidence, along with photos of the dumpster and pry marks on its lid, were forwarded to detectives, but the case has since been deactivated. "If additional information on the case surfaces," said SBPD spokesperson Sergeant Riley Harwood, "we're always prepared to reopen it. … There are definitely suspicious circumstances present."
Wieckowski said police detectives advised him to speak with the District Attorney's Office, and he recently talked with a victim advocate there who put him in touch with Deputy DA Brian Cota. Without anyone to prosecute, Cota explained to Wieckowski and The Santa Barbara Independent, it's difficult to build a case. The first step needs to be taken by the police department to identify possible suspects. Cota suggested filing a complaint in small claims court, Wieckowski said. Exasperated and out of options, Wieckowski sent a letter Thursday to a number of his fellow contractors, as well as the Santa Barbara and Ventura contractors associations, warning them of the union's unchecked "criminal activity."
'

No Comment'

Calls to Southwest Council local chapters — Camarillo, Arroyo Grande, Bakersfield, Long Beach — were either unreturned, directed to a Santa Barbara phone number, or forwarded to its Los Angeles headquarters. A man who identified himself as Joe answered the Santa Barbara line and declined to comment on the allegations. He also would not talk about the Southwest Council's general presence in Santa Barbara County. Justin Weidner down in Los Angeles issued a "no comment" response before a question could be asked then hung up. Calls made to the United Brotherhood of Carpenters and Joiners of America (UBC), of which the Southwest Council is an affiliate, went unreturned.

This summer, the UBC put the Southwest Council under emergency supervision after charges of malpractice, intimidation, wrongful conduct, and financial irregularities surfaced within the council. In a six-page fax sent July 19 to all of the Southwest Council's 31 local chapters throughout Southern California, Nevada, Arizona, Utah, New Mexico, and Colorado, a massive political shake-up was announced with the UBC chief, Douglas McCarron, removing his younger brother — Mike McCarron — from the head of the Southwest Council. The decision was reportedly fueled by familial bad blood and tension among union brass.

Also this summer, the National Labor Relations Board (NLRB) launched an investigation into reports that union members had followed supervisors with a Phoenix drywall company from the contractor's headquarters to individual job sites, running red lights and weaving through traffic to keep pace. The NLRB would eventually find the union innocent of any wrongdoing, noting a rule of the National Labor Relations Act that a union can use such tactics as long as, "[n]o one is injured, nothing was thrown, no one was prevented from going to work or leaving, and no vehicle was harmed or excluded from the premises." NLRB representatives were unavailable to speak on that matter or any other because of the government shutdown.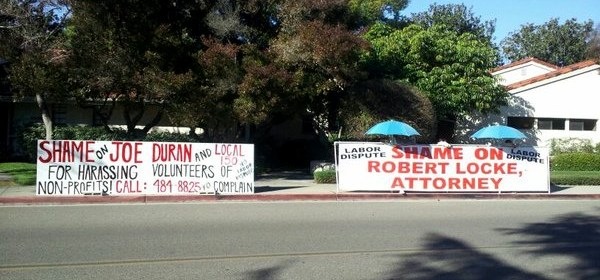 Courtesy