If anyone has the right to crusade against "uni-taskers," it's TV's reigning food geek, Alton Brown. After all, in addition to creating, producing, and hosting his game-changing and Peabody Award-winning show Good Eats for 13 years, he's starred on The Next Iron Chef, Iron Chef America, The Next Food Network Star, Feasting on Asphalt, Feasting on Waves, and Cutthroat Kitchen, and in 2011, he took home the James Beard Award for Best TV Food Personality. In the meantime, he's managed to write seven books (the first of which also earned a James Beard Award in 2002), produce a regular podcast series, tweet regularly (in "analog" form: his 140-character thoughts are generally written on post-its, photographed while stuck to his computer monitor), and put together Alton Brown Live! The Edible Inevitable Tour, an epic nationwide variety show that hits Santa Barbara next Wednesday. The show will feature everything from singing to audience participation to food demos — and yes, there will be a poncho zone. I spoke with Brown a week before the tour kicked off, talking everything from puppets to processed food.
The show sounds like quite a production. Singing, dancing, puppets, demos … Can you tell me about why you wanted to do this tour? And whether Gallagher was an inspiration to you in your early years? No dancing! Absolutely no dancing! It's a variety show with some very large, potentially frightening food demos, puppets, stand-up, audience interaction, five or six songs. I've been doing live stage shows in one form or another for 10 years but never had the time or an organization behind me that would allow me to put together something large and consumer — and I've been kinda busy making TV shows for the last 15 years! I really enjoy live audiences; my college degree was in theater — I guess I've never gotten over that. When I had the opportunity to team up with a really good production company, I jumped. It took years to carve out the time, so I'm jazzed.
On a scale of one-to-10, how necessary do you expect the ponchos to be? The show isn't built to be messy, but one demo involves large amounts of compressed gasses, and whenever you mess with that stuff, there's a possibility — all it takes is one person with a white cashmere sweater. This isn't a Gallagher show where I'm pummeling people with chunks of watermelon; these are purely prophylactic devices meant to quell any possible dry-cleaning bills. If people don't want to wear them, they don't have to — sometimes I don't make a mess. The poncho zone isn't a sales tool — "Hey, come on down! I've got ponchos!" They're really kind of ugly, and you wouldn't want one, but you know, if you show up in your wedding dress, you might want the poncho.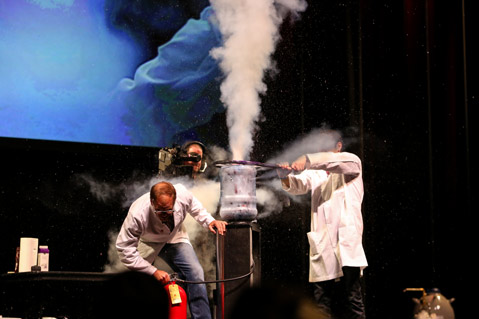 Andy Martin