Limo Service/Taxi Service
RockStar Transportation
882-9191
"I'm ecstatic about winning," said RockStar owner James Houseman. "We've lost a couple of limo companies, and we've gained a few more cab companies. You know it's so easy to start one on your own; you just get a car," he said, explaining his worries about other forms of cab alternatives like Pink Moustache or Lyft (Internet rideshare) services. Besides the trained drivers, Houseman points out that RockStar cars are 100-percent dispatched, meaning drivers are pre-screened. "You have to call to get a RockStar," he said. "We've mixed it up, kept it fresh, new cars. You don't get an old cop car picking you up. We're very happy we keep winning. But we'll see where this business is by next year," he said.
FINALISTS; LIMOLINK (LIMO SEERVICE); YELLOW CAB (TAXI SERVICE)
Motorcycle Dealership
Ducati of Santa Barbara
17 W. Montecito St., 884-8443
"I think people vote for us because they know we love our work," said Trevor Dunne. "Let's put it this way: [Employees] must work here because they love Ducatis because they don't work here for the money." Dunne purchased Ducati of S.B. 35 years ago and is about to retire. "Let's face it. I'm not retiring; the kids are pushing me out," he joked, though, indeed, his son will take over the business. "I had other businesses, but this was the one I love. They say if you love your job, you'll never have to work your whole life."
FINALIST: SANTA BARBARA HONDA
New Car Dealership; Used Car Dealership
Toyota of Santa Barbara
5611 Hollister Ave., 572-1130
There may be one answer to why Toyota wins this category every year for the last decade and that would be Prius. But it would also be unfair, since many of the models from Corolla to Matrix sell well and represent great economy and near-green performance in the fossil-fuel department. But no single answer works for the pre-owned part of the lot where BMWs, Fords, and Lexuses show up decently priced and, as advertised, with enough dealer backing to take the abandonment pain away from the phrase previously owned.
FINALISTS: SANTA BARBARA HONDA; S.B. AUTO GROUP
Car Wash/Detailing
Educated Car Wash
3735 State St., 687-8800
From the $15 full service to the $200 super detail job, all of Educated's work is hand done and offered with a discount on a gas fill-up. Sometimes, when the tank is full and the dashboard is gleaming, our chaotic lives seem not so bad. Maybe it isn't Thunder Road, but it is nice to see a bright future through the windshield for a change.
FINALIST: FAIRVIEW CAR WASH
Quick Oil Change
Jiffy Lube
Many locations
The readers pick this franchise year after year, and we have to commend them (the readers) for their consistency. It's really all you need to do to contemporary cars in an age when all the moving parts are sealed in plastic and run by computer. Regular oil changes make vehicle investments last longer, and the availability and speed of this business makes long life possible.
FINALIST: FAST LANE
Place to Get Tires
Ian's Tires & Auto Repair
4299 State St., 683-0716
Eric Miller is Ian's son and is proud to follow in dad's tracks and is grateful to win this, trumping the big-chain tire stores. "I think it's word of mouth that helps us best," said Eric. With prices, we try to be as competitive as possible. What a lot of people might not guess is that we do oil changes, tune-ups, and that we can get almost any brand of tire that you want."
FINALIST: BIG BRAND TIRE & SERVICE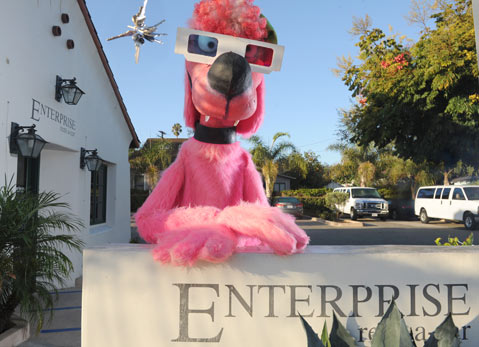 By Paul Wellman