This year's race for the Santa Barbara City Council is all about the number four. It's not so much a matter of numerological mumbo jumbo as it is a contest between the council's rival camps to secure a solid four-vote majority for the next two years ahead. The math is simple. Currently, four of the seven councilmembers are registered Democrats — although that body is technically nonpartisan — and together, they constitute a semi-cohesive bloc giving the council a slightly left-leaning tilt. But because Councilmember Grant House, an outspoken liberal on the hot button issues of affordable housing and alternative transportation, is being termed out after having served two terms, there's a council vacancy. And that poses the distinct possibility of a directional shift.
Or not.
It all depends.
In this year's election, three seats up are for grabs. Two, however, are currently occupied by incumbents seeking reelection — Councilmembers Bendy White and Frank Hotchkiss. These two occupy opposite sides of the political aisle, and if the conventional wisdom is to be believed, both are heavily favored to win reelection. If that proves correct — and recent history demonstrates that council incumbents are by no means invulnerable — that leaves eight other candidates vying for the one remaining seat.
In many ways, this year's race is a mess. Even with a scorecard, it's hard to determine who's who and what's what. Of the 10 council candidates, four are registered Democrats, five are "declined-to-states" — a significant jump from previous years — and only one, Hotchkiss, is registered Republican. Two were born in Santa Barbara; four grew up here. Two are women, two Latinos, and two speak Spanish. Three rent; the rest own. Two were adopted. Two served in the military, one — Jason Nelson — in Afghanistan. Two have not raised enough money to trigger campaign finance reporting requirements — Cruzito Herrera Cruz and Matthew Hunter Kramer — and have been excluded from several candidates' forums because of it. Two of the challengers — Gregg Hart and David Landecker — were elected to the council previously and are seeking to make political comebacks. Two currently serve on the Parks and Recreation Commission — Lesley Wiscomb and Megan Diaz Alley — and are making their first bid for elected office. One of the challengers — Michael Jordan — serves on the Planning Commission. Two live on the Mesa, two on the Eastside. Four are over 60, two in their fifties, one is 40, another 38, and two are 34.
The special-interest groups, civic activists, elected officials, political parties, and political "machines" that typically back candidates are far more scattered this year than any time in recent memory. Groups that used to line up their endorsements together this year aren't. The ensuing fuzziness matters because in low turnout elections, a small handful of votes can make all the difference between victory and defeat. And while all the candidates raise pretty much all the same issues — aggressive panhandlers, gang violence, economic sustainability, affordable housing, residential density, and traffic — they differ significantly in emphasis and approach. Should City Hall hire more cops to deal with the homeless or try something else? Is the proposed gang injunction necessary? Are new revenue sources needed? And will new zoning rules that allow greater residential density make a dent in housing affordability or destroy Santa Barbara's historic charm and architectural character?
All this rhetoric translates into real action, eventually. A small case in point: the bulb-out recently built at the corner of De la Vina Street to help pedestrians cross what's otherwise a dangerous intersection. When council "conservatives" briefly held a four-voter majority, they regarded bulb-outs as a four-letter word. Even though outside funding existed to pay for this project, traffic planners steadfastly refused to bring up the idea. Only when the "liberals" took back the council majority two years ago would the plan be discussed.
As a general rule, "liberals" support increased housing densities as a tool to increase affordable housing opportunities, for both rental units and for-sale units. Conservatives tend to believe such efforts can work only for rental housing, but will otherwise undermine neighborhood character. Liberals tend to push harder for transportation alternatives; conservatives are more wed to the inevitability and necessity of the automobile. Conservatives tend to argue more cops are needed; liberals counter more services should be provided and less punitive approaches taken. Liberals contend City Hall needs new revenue streams; conservatives that we should make do with what we have.
As with most general rules, these do not pigeonhole all the candidates with 100 percent precision. Still, they're close enough for government work. With this in mind, the liberal block of candidates includes incumbent Harwood "Bendy" White and challengers Gregg Hart, David Landecker, Megan Diaz Alley, and Cruzito Cruz. The conservative block includes incumbent Frank Hotchkiss and challengers Lesley Wiscomb, and Jason Nelson. The two who have raised campaign issues and a conspicuous dearth of campaign cash are challengers Cruz and Matthew Hunter Kramer.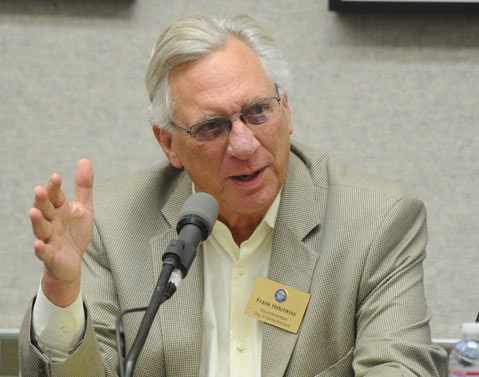 By Paul Wellman