This football season at Bishop Diego High School is one big carpe diem. Two years ago, the Cardinals had a strong sophomore class and went 11-2. Last year, they rode a school-record 12 wins into the CIF Northwest Division semifinals before suffering a defeat. Now they have 23 seniors on their roster with the ultimate goal of going all the way to a CIF championship.
Tom Crawford takes nothing for granted. Bishop's head coach of 14 years learned the necessity of thorough preparation during the 17 years he practiced law in Los Angeles, primarily as a defense attorney. A stint as a volunteer assistant coach at Birmingham High encouraged him to switch careers. When Bishop Diego offered him a full-time job, he took it despite a substantial pay cut.
Crawford serves as dean of men and teaches classes in government at the 300-student coed school. His football coaching staff includes Bishop alumni Ralph Molina (Class of '79), a Santa Barbara Police lieutenant who moonlights as the team's defensive coordinator; Steve Robles (Class of '81), a retired police officer; and Matt Capritto (Class of 2000), who teaches history and social studies at the school.
The ever-expanding football season made for a short summer. Bishop's varsity players reported for practice on August 5. Three weeks later, they can finally start looking forward to a game. This is the story of the Cardinals' week of practice leading up to their season opener last Friday night, August 30, against the Santa Maria Saints.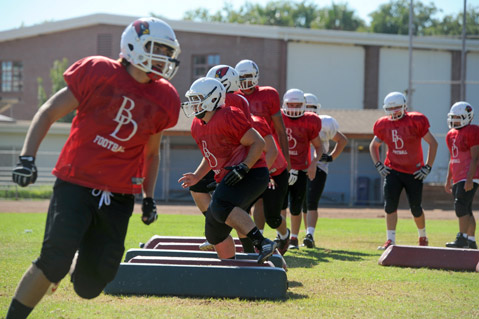 By Paul Wellman