You'd think that Kerri Walsh Jennings has enough treasure to last a lifetime in three beautiful children and three Olympic gold medals. Think again. The 35-year-old volleyball star, known as "Six Feet of Sunshine," is a fount of renewable energy. Not long after nabbing her third gold in London last year, Walsh Jennings set her sights on the 2016 Olympic Games in Rio de Janeiro.
Her journey begins in earnest this weekend in Santa Barbara. Walsh Jennings has found a new partner in crime (bumps and kills) following the retirement of Misty May-Treanor. She is April Ross, who teamed with Jennifer Kessy to earn the silver medal in London. Ross will make her debut with Walsh Jennings on Friday, September 27, when the main draw of the AVP pro beach volleyball tournament at West Beach gets underway. The tournament will continue through Sunday.
"April has all the ingredients — work ethic, attitude, skill set, and intangible qualities," Walsh Jennings said this week. "She has no limitations. She's a big girl with a little-girl mentality."
Kessy and Ross won last year's AVP Santa Barbara crown — defeating an exhausted Walsh Jennings (then two months pregnant with her third child) and Nicole Branagh in the final — and they have been the most successful women's team on the tour so far this year, but their breakup was planned well in advance and is apparently void of resentment. "Jen is going to slow down and plan a family," Ross said. "Kerri and I wanted to get a little feel for each other before next year. We want to play in the last two Grand Slams [on the 2013 FIVB international beach tour] in Brazil and China."
Walsh Jennings is picking up speed after the birth of her daughter, Scout, last April. She also has sons Joey, 4, and Sundance, 3. She won the Manhattan Beach tournament last month with Whitney Pavlik and looks to raise her game to another level with Ross. "With our skill level and our desire, we're going to be great," Walsh Jennings said. Ross, 31, is more cautious about their prospects. "People are expecting perfection, but it will take time," she said. "We're going to have to battle. Everybody will be trying to prove themselves against us."
Adjustments will be necessary. For the first time in her career, the 6'3" Walsh Jennings will play on the right side of the court, ceding the left side to the 6'1" Ross. "It's going to make a subtle difference, and I'm sure it's going to frustrate the heck out of me at times," Walsh Jennings said. "I want to incorporate new things and be the best player I can be." She might soon become the winningest player. May-Treanor, a relentless competitor, retired as the all-time leader in women's championships with 112 wins. She forged 104 of them with Walsh Jennings, who has 110 titles and counting.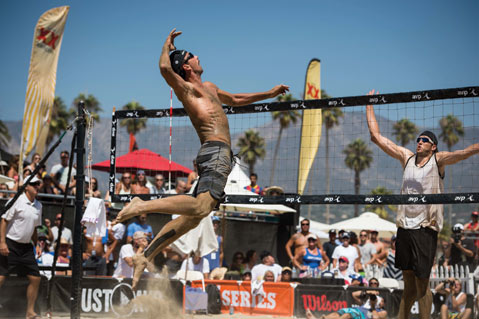 Robert Patterson