Raised in a fundamentalist Christian family in North Carolina, he's now a New York–based artist making boundary-pushing performance pieces. Simultaneously masculine and effeminate, an entertainer and an intellectual, Mark Dendy has made an art of defying categorization.
At the same time, the former Martha Graham dancer has immersed himself in many worlds, from drag shows to illustrious opera companies, experimental site-specific works to commercial Broadway productions. This weekend, the curtain goes up on Dendy's latest creation: Dystopian Distractions!, a wild romp through politics and pop culture — and it's happening here in Santa Barbara.
The world premiere marks the culmination of this year's DANCEworks residency. A partnership between SUMMERDANCE Santa Barbara and the Lobero Theatre Foundation now in its sixth year, DANCEworks gives emerging and established dance makers a full month on the Lobero stage to experiment and create new work — with no stipulation as to what that work must look like when it's performed at month's end.
It's an unprecedented opportunity in an increasingly manic performing-arts landscape where choreographers often get less than half that time to build a piece and rarely get access to the stage until the day of the show. But what makes this an especially precious residency for Dendy is the permission he feels to pursue politically charged, controversial material without fear of censorship.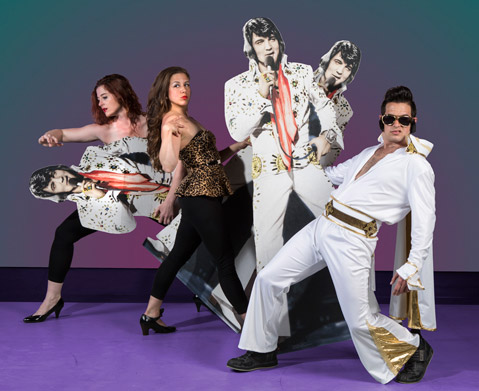 By David Bazemore