So many important things begin at house parties. In your teenage years, the free-form, fun-time satori that a good and proper house-bound fiesta breeds is ripe for kick-starting things like the loss of virginity, your first real beer buzz, a boundary-testing fistfight, or perhaps your first confirmed sighting of a marijuana cigarette. As you grow, the milestones and metrics change, but the ingredients stay much the same: interesting people, libations, some tasty food, multiple rooms to wander through, and, of course, music. Good music. Put all these variables under one roof sans health codes, bouncers, or cover charges, and special things are all but guaranteed to happen.
It was in just such environs that I found myself this past December, a week before Christmas to be exact, at a sprawling sort of compound at the dead end of a private road just above Rincon in the hills of Carpinteria. The place was pulsing with smiley-faced youthful energy, a healthy crowd of twenty- and thirty-somethings enjoying each other and the wonderful world around them as 2013 came to a close. A silly-delicious gluten-free and vegan chocolate cake shared in the kitchen among friends and friends of friends gave way to a joint, which gave way to the realization that the music I was hearing and unconsciously enjoying was live in its origin. Ducking out a side door, I followed the guitar-heavy rhythms into a separate building, the spaced-out Allman Brothers–circa-1978 sound drawing me in and putting my head on bounce. There has been much ado made of late about the anemic and waning Santa Babylon music scene ​— ​a chorus-like gripe that I have certainly been a part of ​— ​but as I entered that smoke-filled and surprisingly lava-lamp-devoid space, it was clear that such rumors of ill-health had been greatly exaggerated. Good and local and fresh live music wasn't dead; we had just been looking in the wrong places.
"It's a real living culture thing, lots of young guys playing music with this feeling of genuine righteousness."
Though I didn't know it at the time, the jam that was happening, featuring three guitars, drums, bass, and a bunch of less musically inclined folks on vibes, was an impromptu super group of sorts, virtually all of the individuals involved belonging to their own bands or being actively hustling solo artists. And, though the crew included musicians from S.B. to Ojai and the many hills and canyons in between, the bulk of them were Carpinteria cats, children of the World's Safest Beach. Make no mistake: There is a musical renaissance of sorts underway in that quaint little seaside hamlet to our south. More to the point, from house parties and standing-room-only affairs at The Palms to sold-out underground hootenannies at the Brothers of Industry workspace and sunny-day mellow grooves in the shade of the Torrey pine tree outside of the Lucky Llama, the youth movement has a soundtrack of its own making: a sandy-footed blend of late-'70s rock 'n' roll and up-tempo blues with occasional sprinkles of boot-stomping folk, roots reggae, and (gasp!) some head-bang-worthy metal. Even better, those melodies have begun to spread up the coast and in toward the mountains, dovetailing nicely with an equally renewed and heavily related music scene out the Ojai way.
"It has been pretty refreshing to discover," observed Vaughn Montgomery recently. "It's a real living culture thing, lots of young guys playing music with this feeling of genuine righteousness." Once a pillar of a somewhat similar youth push in the S.B. music scene of the late '90s and early 2000s, Montgomery ​— ​who has been "hiding out in Ojai and raising a family" for the past couple of years ​— ​has taken special note of the situation. He's taken on the role of curator for Folk Steady, the Ojai Rancho Inn's popular Sunday-afternoon concert series, and regularly sits in at the weekly organized jam sessions at The Deer Lodge in Meiners Oaks. "There isn't really any money being made by anyone. It is not the normal hustle that is typically going on in music or the art scene. It's a lot more about we and less about I, something I think we all are sort of starving for."
While this largely Carp-rooted musical momentum casts a wide net as far as participants and genres go ​— ​acts like the Rainbow Girls, Montgomery's group little big here, Sparrows Gate, and Aaron Embry are certainly a part of it as either direct participants, influencers, or some combination of the two ​— ​the tip of the spear is best illustrated by a trio of groups, all of whom had members rocking together during that fateful house party jam this past winter. Bonded by friendship, a shared love of riding waves, and genre-blurring musical chops that manage to be both perfectly reminiscent and at odds with each other, I introduce to you Afishnsea the Moon, Pleasure, and Pacific Haze.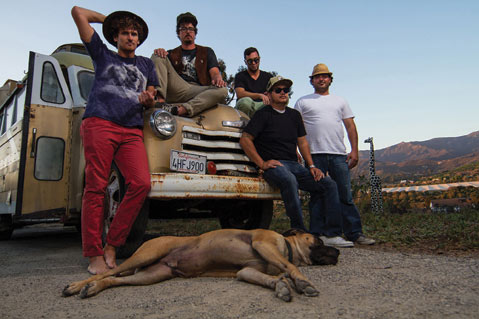 Kailani Jabour