Rodney's Grill is one of Santa Barbara's hidden gems, tucked away in a corner of the Fess Parker DoubleTree Resort on East Cabrillo Boulevard. Despite its quality ingredients and world-class chefs (hand-picked by Hilton, which owns the hotel), Santa Barbara residents are too quick to write off the restaurant as only for the overnight guests.
And vegetarians are hasty to make a second mistake when they dismiss this steakhouse as for meat eaters only. Executive Chef Kirk DeLong, Sous Chef Luis Del Mercado, and General Manager Matthew La Vine insist that Rodney's Grill does not shy away from vegetarian cuisine. "I used to be vegetarian when I was in culinary school," said DeLong. "I did it for the true benefit of just [diversifying] my career."
The move paid off. Here are just three deliciously flavored and expertly crafted vegetarian dishes now on the menu at Rodney's Grill.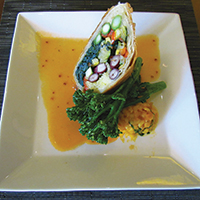 By Joanne Howard