The security door slammed shut with a bang and, with that, D.J. was out. A tad disheveled with a light swagger and a heavy tan, D.J. rolled his suitcase toward the double doors of the jail's lobby, his bleary eyes eager to escape from the place he'd been booked into nine hours earlier.
Two men standing near the couches intercepted D.J.'s gaze and startled him by offering a cup of coffee. What about a bag of potato chips? A bottle of water? D.J. perked up at the water, sat down, and frantically rummaged through his luggage in search of his cell phone. The men asked if he needed a ride downtown, then handed him a coupon for a free McDonald's breakfast; he accepted and chugged the water. With a shrug of his shoulders and a nervous chuckle that would accompany many of his other admissions, D.J. said he had a drinking problem.
Listening intently, the men learned that, prior to moving to Santa Barbara in 2008, D.J. held a paramedic job for 12 years, earned a degree in criminal justice, and then worked as a ski patroller in Colorado. Before being arrested, he said with a sly smile, he'd been dating a woman who worked at the Bacara. But benders and consequent stints in the hospital and jail changed things. He was now homeless, jobless, and "bottomed out," picked up that afternoon for disorderly conduct. "It's weird you guys are out here," he said, looking up at Tim Adams, Maeton Freel, and Steve Wagner. It was approaching midnight on Wednesday, July 23. It was their first night there.
Adams, Freel, and Wagner, along with 30 other volunteers, are members of Believer's Edge, an all-male religious group that meets on Tuesday mornings. Last fall, the believers offered to man the lobby of the Santa Barbara County Jail to provide inmates discharged in the late-night hours ​— ​a worrisome but often mandated practice ​— ​with snacks, conversation, and connections while they wait for rides and figure out their next moves.
The nascent program isn't without concerns ​— ​its level of religiosity, its lack of female volunteers ​— ​but many contend it could lift people up when they're at their lowest. The men behind Believer's Edge proposed their services ​— ​called the Light Brigade, a poem-inspired spin-off of a program called Lights On in Orange County ​— ​at the same time the Sheriff's Office began looking at ways to prevent people from cycling in and out of the jail. But recidivism rates plant cynical roots, so Believer's Edge skeptics, supporters, and jail staff are wondering, one, can it really help? And two, what could it hurt?
For D.J., it meant the difference between walking down a dimly lit, sidewalk-less Calle Real and getting a ride from Adams to Faith Baptist Church, where D.J. knew the pastor. "Come get a coffee with us Tuesday morning," Wagner suggested to D.J. before he left. Promising to show up, D.J. shook his head and laughed. "If I didn't get arrested, I probably would have drank myself to death," he said. "This might have been a blessing in disguise."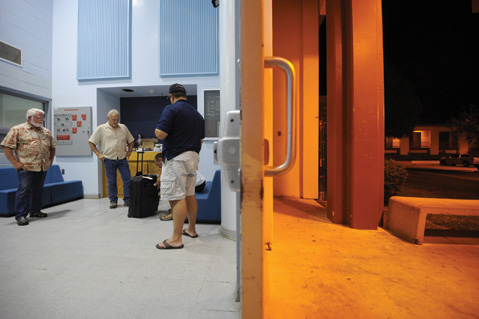 By Paul Wellman