What could be better than going to watch your favorite college football team win a bowl game? USC, UCLA, and Stanford fans will most likely be able to do that this Holiday Season. Two of these games are right here in California and could fit into some last-minute vacation plans.
Holiday Bowl San Diego
The first of these opportunities comes for USC Trojan fans, as their team takes on the Nebraska Cornhuskers at the Holiday Bowl in San Diego on December 27. The Trojans have a great offense which was on full display against Notre Dame in the regular season finale. Nebraska on the other hand has just fired its coach and will be heavy underdogs in this one. I see this as a coming out party for USC quarterback Cody Kessler who will fill the air with footballs.
Trojan fans may want to consider taking the train from Santa Barbara all the way to downtown San Diego. While it will take a bit longer, you will be very relaxed upon arrival. The Manchester Grand Hyatt would be a perfect spot to stay on the waterfront downtown and close to Amtrak. This majestic twin-tower property has one of the most ornate lobby areas you will ever see and spectacular views of the San Diego Bay area and beyond. This hotel is walking distance to all the nightlife found in the Gas Lamp District. There is light rail service to Qualcomm Stadium where the game will be played.
Alamo Bowl
UCLA fans will have to make the trek to San Antonio to see the Bruins finish the year on January 2 against Kansas State. The Bruins were close to winning three straight Pac-12 South titles, but the team finished with a bad showing in the last game. I think Coach Mora will rally the troops against Kansas State, which is 2-6 in their last eight bowl games. Look for UCLA quarterback Brett Hundley to go out in style here.
The hub of activity will be in the downtown area where most of the city's hotels and restaurants are located. An obligatory visit to the Alamo will be needed but don't budget more than two hours for this. The Alamodome is very close by and has loads of parking. Mornings and evenings will be cold but daytime temperatures should make it to the 60s at this time of year.
Foster Farms Bowl Santa Clara
After four consecutive Bowl Championship Series appearances, Stanford had an off year in 2014. The team did play well in its last two games and will practically be at home on December 30 against Maryland in the Foster Farms Bowl. The game will be played at Levi's Stadium in Santa Clara, which opened this season. The Cardinal will be a heavy favorite in this one, but the outcome will rest on the shoulders of quarterback Kevin Hogan and the play calling of Coach David Shaw. Both were dismal this year before the late flourish. We'll see.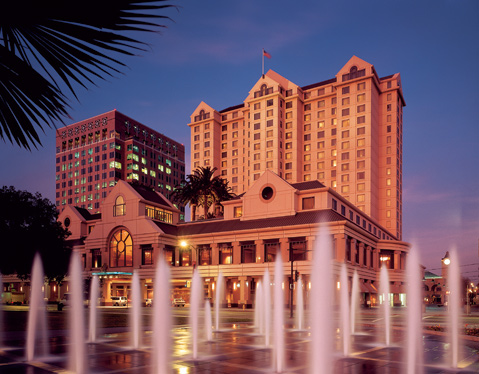 By Courtesy Photo