Ice and snow were nowhere to be seen, but that did not stop Erin Pac Blumert and Peter Blumert from bringing the Winter Olympics to Santa Barbara — or, more accurately, revealing the demands of strength, endurance, and concentration that are required to earn an Olympic medal, as she did in 2010.
Erin was the driver of the two-woman bobsled that brought the United States an unexpected bronze medal four years ago at the treacherous Whistler Sliding Centre in British Columbia. Peter, a former bobsledder himself, was her strength coach in the years leading up to the Olympics. They were married in 2011 and moved to Santa Barbara, where Peter is performance director at Prevail Conditioning, a downtown fitness center.
To build some interest in the upcoming Sochi Winter Olympics and relive their experience at the Vancouver Games, the Blumerts cooked up a competition of six simulated events for 40 of their clients and friends last Saturday.
Bobsledders must start their runs with a mighty push before they jump into their seats. Saturday's event required contestants to propel either a Nissan Rogue sedan or a Chevrolet Silverado pickup — depending on the combined weight of two pushers — a short, timed distance across a parking lot off Haley Street.
Of course, they missed the fun part — hurtling down a slippery, twisting chute at 90 miles per hour — but they got a good taste of it by watching a video of all four Olympic runs by Erin and her teammate Elana Meyers. Erin steered the sled in the front seat. Meyers's job was to sit still after the initial push and apply the brakes after they hit finish line.
Erin grew up in the Northeast and was a track-and-field athlete at Springfield College in Massachusetts. She tried out for the U.S. bobsledding team in 2002 at the urging of her coach. She made the roster as a pusher, or brakeman, but was not among the top three selected to compete in the 2006 Turin Winter Olympics. She subsequently began training as a driver.
(Former UCSB heptathlete Maureen Ajoku, featured in The Santa Barbara Independent's August 8, 2013, issue is following a similar course. Peter, who provided her strength training last year, said Ajoku is attending a school for bobsled drivers.)
Erin was at the helm of USA-2, the country's second-rated bobsled, at the Vancouver Olympics. She and Meyers were seeded sixth and did not seem destined for a medal. "We had poor training runs, and I hurt my hamstring," Erin said. She relied on her faith to get through the first run and recalled her surprise after it was completed: "Holy crap, we are in second place." The second run was even better, a new track record (broken later by the leading Canadian team). "It was the best run I had in eight years of bobsledding," she said.
Peter stationed himself near the bottom of the track, in range of NBC cameras. When Erin was about to get started, he pulled off his shirt, revealing a pink "PAC" painted on his bare chest and red-white-and-blue "USA" on his back.
On day two, Erin and Meyers maintained their standing after the third run, but there was trouble. In the 50-50 section near the bottom — so named because "you have a 50 percent chance of making it through," Erin said — their sled hit some concrete and damaged a runner. "And then, when the fourth runs started, two sleds crashed," Erin said. "My thoughts were: 'Just make it down.'" As they slid toward the finish, Erin saw the scoreboard and knew they'd clinched a bronze medal. "I started screaming," she said. Meyers was alarmed before she realized it was a good scream. They stood on the podium with the Canadians who took the gold and silver.
Erin retired from bobsledding a year later with her body in one piece. "I had some concussions and shoulder burns [when the sled flipped over on her]," she said. Asked if she would like to see the tracks set up for safer speeds, she said, "It's a huge thrill to go fast and be on the edge of danger. If they slow it down, it's going to be boring."
Erin said she'll be cheering for Meyers, who has made the transition to driver and will be piloting USA-1 in Russia. The Olympic women's bobsled runs are scheduled February 18 and 19.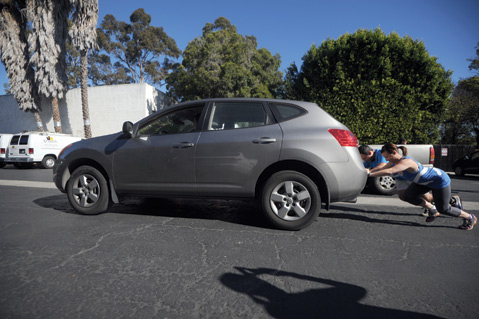 By Paul Wellman