Whether you're a nicotine addict, curious consumer, or "cloud chaser," your options for buying cheapie, disposable e-cigarettes all the way up to high-end "vape pens" are roughly limited to three types of stores. Santa Barbara has them all, and is quickly getting more.
Last week, Thousand Oaks–based Vapor Connection opened in Isla Vista, and a handful of other businesses have cropped up between Carpinteria and Goleta in just the past few months. The fast-paced growth, like many a South Coast trend, has origins in Los Angeles, where small retailers and major wholesalers alike are digging deeper into SoCal's economy and culture.
While every Santa Barbara area store is different ​— ​selling various brands and qualities of merchandise with fluctuating levels of expertise and accountability ​— ​they all exist within a regulatory loophole since city, county, and state business permit codes have yet to catch up with e-cigarette technology. Unlike traditional smoke shops and corner stores, these locations don't need to apply for tobacco-retailer licenses since they don't dispense the nicotine-laden leaf. And the nicotine they do sell ​— ​liquefied and mixed within the flavored solution that all of the devices contain ​— ​isn't yet specified in bylaws.
Some stores, for the sake of transparency, get a tobacco permit on top of their normal business license. Others don't. Some landlords allow employees and customers to vape inside their buildings. Others don't. Some neighbors welcome the merchants and their clientele. Others don't. Regardless, e-cigarette vendors enjoy an existence that's by and large free from government regulation, but they're under no illusion this new Wild West of retail will last forever.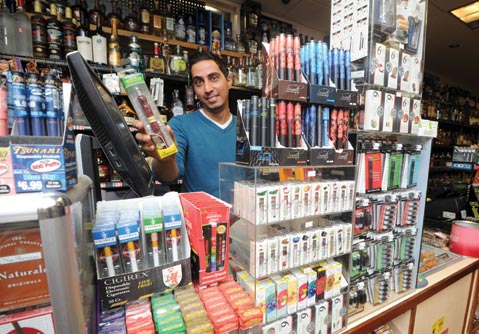 By Paul Wellman