Recently I discovered a great way to use the tools available in Google Earth to trace out trails or other routes, add feature points, save the info as a file and then import it into your smart phone ahead of a trip. Imagine planning a local hike to an area you aren't familiar with but want to try out and having the route laid out for you right in your phone..
To the left is an example of a really nice place to visit in the Montecito area but one that isn't necessarily easy to find or to know where you're going. The Ennisbrook trail complex wanders through a series of oak forests, bounded on the west by Oprah's estate and the others by a series of mansions and wooded areas, creating a maze of ways to go that aren't exactly easy to figure out.
Google Earth (GE)
GE provides the tools to digitize routes that you might want to highlight, like the trails shown above. Currently I'm using Google Earth (GE) to put together a digital map of the entire county, trail by trail. The tools available in GE are relatively simple and pretty easy to use — but then putting together a map or a route you might want to follow only requires three basic things: points, lines and polygons. With GE the tools I'm using to create the map you should also be able to learn how as quickly as I did.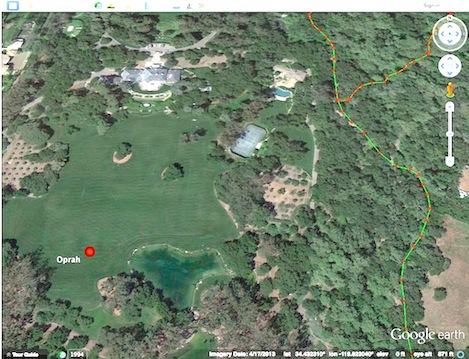 By Ray Ford