We haven't seen every film at SBIFF 2014 yet, but our team was able to screen more than 50 of them over the past couple weeks to deliver this cheat sheet of what to see and why these next 10 days. This year, we are breaking down our suggestions into two categories: Critics' Picks, which are a mix of simply excellent films, examples that exhibit cutting-edge cinematic techniques, and/or feature thought-provoking storylines; and Buzzers-to-Be, which are films that we feel will rise in popularity during the festival and/or spark conversation due to their audience appeal and/or controversial content.
Critics' Picks
Adria Blues
WHAT: Eclectic characters assembled at musical hotel reveal the lingering pains of Bosnian war with hope from humor and rock 'n' roll.
WHY: Poignantly funny insights into how lives change and stop due to long-ago wars, with smart writing, solid acting, and a one-of-a-kind setting.
Bottled Up: The Battle Over Dublin Dr Pepper
WHAT: Big Soda takes on a small Texas town's bottling plant, which had popularized Dr. Pepper for 120 years, become a tourist hub, and stuck with real sugar when everyone else when corn syrup.
WHY: See how enraged the entire state of Texas becomes in this David versus Goliath saga of corporate stupidity and small-town pride.
The Broken Circle Breakdown
WHAT: Scruffy banjo player and saucy tattoo artist fall in love, start a family, front a bluegrass band.
WHY: Stunning acting by both leads makes this bittersweet tale about love, loss, and music hit painfully close to home. Think Blue Valentine meets Once.
Cannibal
WHAT: A tailor who likes to eat women, literally, finds himself conflicted over his next prey.
WHY: Likely the most tender take ever on the nasty habit of human consumption is a calculated, methodical thriller.
Le Chef
WHAT: A gifted but stubborn young chef takes a job underneath an aging culinary legend.
WHY: This live-action spin on the Ratatouille tale offers two solid hours of laughs ​— ​and a whole lot of mouth-watering food porn.
Chu and Blossom
WHAT: Korean student must find his way alongside odd friends in small-town America.
WHY: With equal parts cuteness and intelligence, this is an often hilarious and beautiful analysis of Asian work ethic versus the artistic freedoms and independence promised by America. Expertly acted.
Cold Eyes
WHAT: Elite Korean police force chases robbers with technology.
WHY: Inventive, video-game–like cinematography makes us ponder camera-equipped cities.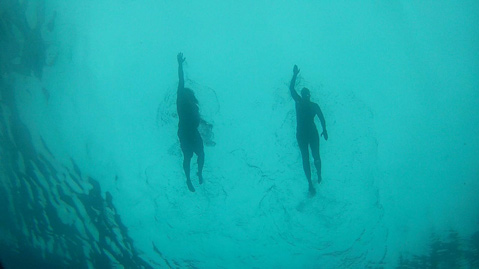 By Courtesy Photo