For a film which grandly and passionately celebrates the majesty and mystery of the world's oceans, and which eloquently pleads for their preservation, Mission Blue — SBIFF's opening night film — has some clearly sobering messages attached. You may have at least momentary trepidations at your next sushi or seafood op, and gain new, chilling insight into the dire state of our oceans in the age of climate change and over-fishing. In a town like Santa Barbara, where the ocean partially defines who we are and why we live here, the effect was a combination of inspiration and despair…meets a desire to help effect change. In other words, the eco-doc does its job, with flair to spare.
Suffice to say, this was not the typical opening night fare for the festival, and a first-time occasion when a nature documentary filled the kick-off bill. As exec director Roger Durling explained to the sold-out house on Thursday night, directors Fisher (The Cove) Stevens and Robert Nixon's Mission Blue — a fascinating and visually striking portrait of the veteran but still uber-energized and impassioned oceanographer Sylvia Earle, with articulate commentary by Santa Barbara's own James Cameron — came into the programming picture at the 11th hour, as a substitute for another film which fell out of the running. Alas, the festival fates were with him, and this year's Klieg light-flecked kickoff was one of the more positive opening night experiences in memory.
On a poignant and festival-centric note, the film is dedicated to and also briefly features famed nature filmmaker and SBIFF hero Mike deGruy, who tragically died in a helicopter accident on the job two years ago — and during festival time. Durling invoked the memory and message deGruy represents, as someone blessed with a "sense of wonder and exploration." As Earle herself, joining filmmakers onstage, told the sold-out crowd at the Arlington, it was DeGruy's "mission to take care of the ocean." Ditto, the force of nature that is Sylvia Earle.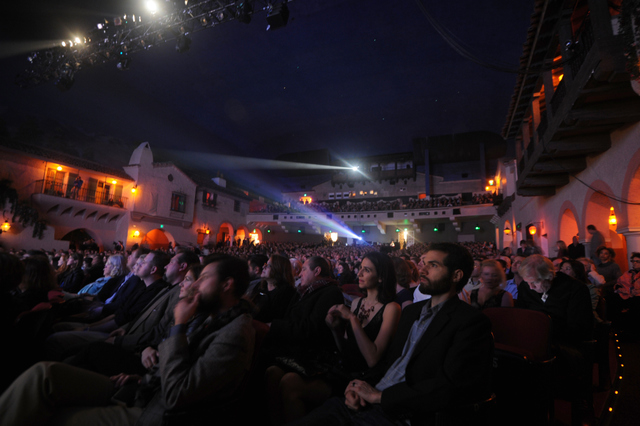 By Paul Wellman