The Blue Owl (5 West Canon Perdido Street; 805-705-0991; theblueowlsantabarbara.com) is an eclectic eatery that houses some of Santa Barbara's best vegetarian eats. At this quirky place, diners will discover an innovative way of cooking Asian food, for while head chef and owner Cindy Black uses traditional ingredients like red curry, kimchi, or Thai basil, she offers them through the familiar dishes of sandwiches, burgers, and breakfast pastries. But to say that this cozy restaurant does Asian fusion cuisine is an understatement — what Black has created is entirely in a league of its own.
The Blue Owl also serves a pleasing selection of vegetarian items. "I've started adding more fresh fruits and vegetables to the day menu," Black said, "but for the people who come for late night, all they want is meat." Black recommends that vegetarians visit for lunch, when the menu has more meat-free items to offer. She recognizes that she has two very different restaurants going from day to night, so to help bridge the gap, she's started opening a little earlier in the evening for dinner.
Whatever time you visit, here are some vegetarian dishes you should try.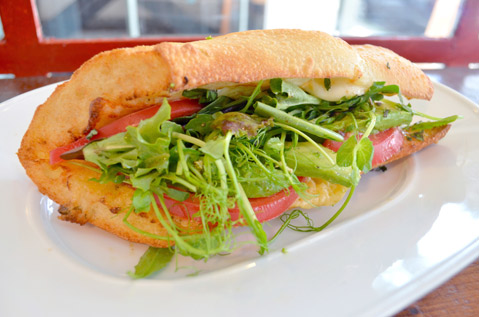 By Joanne Howard