That red snapper you bought at the market: Is it actually rockfish? How about the pricey local halibut you ordered for dinner: Is it really a cheap, farm-raised whitefish from Asia? What about the tuna at your favorite sushi joint — really yellowfin, as labeled, or is it bigeye with dangerous amounts of mercury? And just how "fresh" can spiny lobster be when it's sold in July, far after the season has ended?
To answer such buyer-beware questions, an ocean conservation group backed by celebrities but reviled among fishermen published a study last year on "seafood fraud" in the United States. The results were startling: Of 1,215 samples taken from 674 restaurants, grocery stores, and seafood markets, DNA testing revealed that one-third were mislabeled. Farm fish were sold as wild catch, vulnerable species mongered as sustainable, and watch-list items offered under different names. Some of it was criminal deception made in the name of profit. Other times, confusion came out of archaic slang names around the country or bad translations in overseas sales.
Of the 14 regions tested throughout the U.S., Southern California fared the worst with a 52 percent mislabeling rate. And of the retailers tested countrywide, seafood fraud was found most often at sushi venues, which clocked a 74 percent mislabeling rate. Careful not to single out specific locations, Oceana, the organization that commissioned the study, said it was impossible to tell when and where the mislabeling had taken place, if it were perpetrated by the fisher, buyer, distributor, shipper, or the grocer or restaurateur who actually sold the public the fish. Seafood's chain of custody can be so long and complicated, the researchers argued, that more oversight is needed to make sure consumers eat what they pay for. The U.S. imports 90 percent of its seafood — as does Santa Barbara — but reportedly tests only one percent for fraud.
Pointing to that much-hyped study and a 2009 report by the federal government on similar issues, Congressmember Lois Capps and California State Senator Alex Padilla are now pushing two separate bills aimed at holes in the regulatory net. And they're pushing hard, in part because election season is coming: Capps is running for reelection in November, and Padilla, currently representing California's 20th Senate District in Los Angeles, is vying for Secretary of State.
Both lawmakers have support for their legislation from national trade groups, nature organizations, and big-name chefs, but a high number of Santa Barbara stakeholders are skeptical about what the bills hope to accomplish, how they'll be enforced, and what more red tape may mean for the South Coast. They're quick to note wholehearted support for accurate labeling, but they've also expressed distrust of Oceana's data and motives, calling the proposed legislation hollow politicking around a nonissue.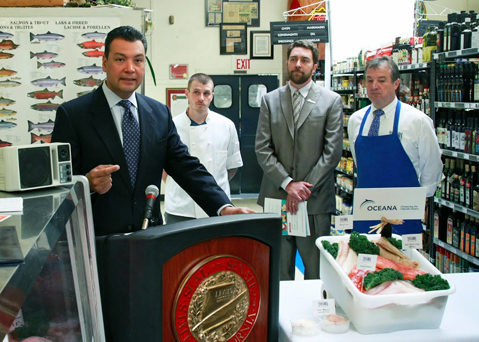 Courtesy photo