Two runs told you all you needed to know about the Santa Barbara Foresters during their 8-5 victory over the Pacific Union Financial Capitalists in a California Collegiate League (CCL) baseball game last Sunday.
Colt Atwood led off the bottom of the first inning at UCSB's Caesar Uyesaka Stadium with a single. The speedy outfielder from Sam Houston State became an immediate distraction at the first-base corner. Atwood has stolen 23 bases this summer and has been caught only three times. "If I get thrown out, I'll take a bigger lead and get 'em next time," he said. He was so far off the bag that when Caps pitcher Cameron Avila-Leeper threw over to first, instead of diving back, Atwood took off for second. The first baseman's hasty throw went into the outfield and skipped almost to the fence. Atwood never stopped running until he'd circled third and crossed home plate.
The Foresters were leading 7-5 in the home half of the seventh when A.J. Balta lifted a high pop-up to the right side of the infield. The Caps' first and second basemen both tried to locate the ball with the sun in their faces. It dropped between them. Balta, a utility player from Oregon, was not content to arrive safely at first base. He was running hard at contact, and when the ball fell in, he was already on second base. An infield single by Jake Vickerson advanced him to third, and Balta scored Santa Barbara's final run on a wild pitch.
The victory gave the Foresters a sweep of the three-game series against the Caps, a Bay Area–based team of 18-year-olds who are all entering major-college programs in the fall. On their potential, the visitors may have been a superior team to the Foresters. But they were no match in baseball savvy and grit.
"Old-fashioned, hard-nosed baseball," Foresters manager Bill Pintard said. "We're beat up with some injuries, but we're battling. I love this team."
Pintard has been saying that virtually every year since 1995, when he took over leadership of the Foresters and a few years after they were founded and named after a club that thrived during Santa Barbara's baseball boom of the 1950s. In the past 19 seasons, the Foresters' average win-loss record has been 41-13. They are on track this summer at 32-8. With the league's best record for the 18th time in 20 years, they are heading for another appearance next month in the National Baseball Congress World Series at Wichita, Kansas. They have brought the NBC trophy home four times, in 2006, 2008, 2011, and 2012.
As the marquee team in the CCL, the Foresters have the advantage of playing most of their games at home. Their farewell series of 2014 will take place this weekend. They will host the Conejo Oaks Friday, July 25, at 5 p.m.; the San Luis Obispo Blues Saturday, July 26, at 5 p.m.; and the Oaks again Sunday, July 27, at 1 p.m., fan appreciation day in the club's family-friendly environment.
Pintard manages to produce consistent winners, even though there's almost a complete turnover in the Foresters' roster every year. The only returnees on this team are Atwood and recent arrival Steven Reveles, a former Dos Pueblos High and SBCC shortstop who started 51 games for Nebraska and hit .500 in three NCAA tournament games.
"He does an awesome job finding players," Atwood said of Pintard. "We're all the same kind of breed. He keeps us super relaxed, just tells us to go out and have fun."
Ford Stainback, an infielder from Rice University, played in the prestigious Cape Cod League last summer. "The pitching is a little better there, but our team could compete well in the Cape," he said. "I really wanted to come to Santa Barbara. All I heard was good things about it." It's been going well for Stainback. He extended his hitting streak to 10 games Sunday and raised his average to 0.397.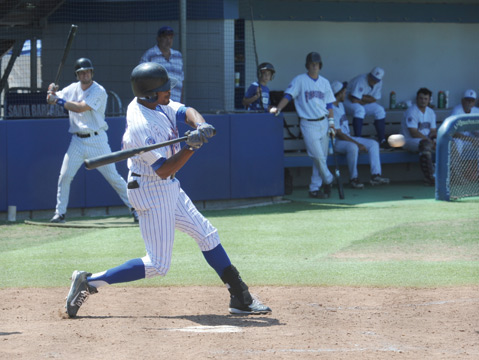 By Paul Wellman