One Saturday morning in the summer of 2012, 15-year-old Daniel Godinez catches the bus from his home in Goleta. With transfers and delays, he pieces together a two-hour circuitous ride to the Museum of Natural History. He walks along the empty parking lot shaded by ancient live oaks, past the enormous blue whale skeleton, through the adobe entrance, and cuts across the peaceful courtyard. Opening the door marked "Gladwin Planetarium," he feels his way along a dark aisle toward the control booth with the awesome presence of the sky dome overhead. In less than an hour, the audience will begin filling the seats for the first show of the day; but now he is alone. This is Daniel's moment; he is about to turn on the universe.
If you had happened to take a seat that morning, leaning back, you would have been guided through the wonders of our solar system and beyond by an upbeat and articulate astronomer who appeared far too young to be lecturing on 14 billion years of cosmic arcana. What special opportunities did this young man, practically a boy, have to be so knowledgeable, you might have wondered? Did he have a father who was an astronomer or an uncle with a great telescope? In fact, Daniel is the son of Mexican immigrants with little formal education. While his launch pad was the public school system, and his rocket fuel his own drive, his achievement is also a testament to the importance of science electives and a responsive network of educators who cared enough to go beyond their paid orbits.
In the winter of 2009, Daniel's junior high science teacher announced there would be an opportunity for students to take part in a special program "to use a really big telescope across the world." Daniel was not the sort of student to step forward for science electives. Though he worked at his studies, he had only been speaking English for six years, and his school record was undistinguished with low test scores and missing work. His parents worked in the service industry, and, as with many Mexicans, they valued family, religion, and practical abilities foremost. It would not have been unusual for their teenage child to forfeit secondary school in order to enter the work force. True, Daniel was enrolled in AVID (Advancement Via Individual Determination), a public school program intended to promote first-generation college-bound students, but in practice he found the study-skills class dull. It felt to him like a dumping ground for language-limited low achievers, and he wasn't particularly sure how far he wanted to go with his education. His science teacher, however, proved persuasive, insisting the activity was within reach of any student who desired it and not just a perk for A students. Admitting that he was already intrigued with the subject, Daniel finally agreed to sign up.
The program turned out to be part of the Faulkes Telescope Project (FTP), the brainchild of English entrepreneur and philanthropist Martin C. "Dill" Faulkes, who wanted to provide free access to robotic telescopes and a fully supported educational program for teachers and students. "The idea of giving British youngsters access to a world-class telescope immediately appealed to me," said Faulkes. "I could see that spending a few million pounds making science and maths in schools more interesting would have much more effect on children than spending half a billion on truancy measures."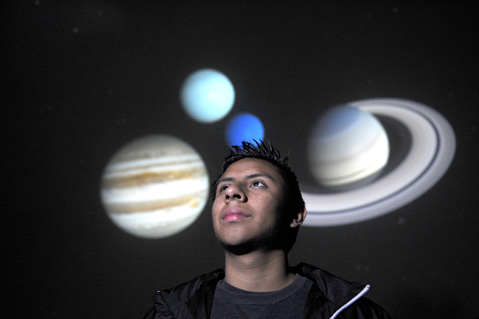 By Paul Wellman