There are people who love soccer, people who hate soccer, and people who are inclined to shrug their shoulders and dismiss soccer. Many in that last group suspended their apathy, for the next week anyway, after the stunning 2-1 victory by the U.S. over Ghana on Monday in the opening round of the World Cup. Winning has a powerful influence on the American psyche, especially when it is accomplished in dramatic fashion. Witness the conversion of Los Angeles into a hockey town, home of the Stanley Cup, by the never-say-die Kings.
Chants of "U-S-A! U-S-A!" were heard up and down State Street after reserve defender John Brooks became a hero with his 86th-minute header — off a corner kick from another sub, Graham Zusi — that defeated Ghana. It assured that the U.S. will be in contention to advance in the tournament through the remainder of its "Group of Death" matches — versus Portugal on Sunday, June 22, and Germany on Thursday, June 26. That should keep the interest in Brazil's soccer fest at a high level, as American chauvinists join forces with international football aficionados.
Here is one man's impression of the first five days of this World Cup.
DAY ONE: It was standing-room-only at the Brasil Arts Café on State Street, and the Press Room on Ortega Street also was packed before the opener between Brazil and Croatia. Fans went across the street to Dargan's and into other hangouts on lower State, a robust turnout on a Thursday afternoon. The Brazilians, the favorites to win the Cup, had to overcome a 1-0 deficit. Neymar's second goal, on a penalty kick, broke the 1-1 tie after Fred vied for an Academy Award by taking a dive — an exasperating ploy that the referee should not have rewarded. It was Oscar himself who redeemed Brazil somewhat with an excellent goal to cap a 3-1 victory.
DAY TWO: There was more poor officiating in the Friday-morning match, as two apparent goals by Mexico were denied by bogus offside calls. Mexico got a late score that counted for a well-deserved 1-0 win over Cameroon. The Netherlands did this half-Dutch observer proud by pounding Spain, the reigning world and European champion, 5-1. Robin van Persie's flying header was a thing of beauty, and Arjen Robben ran circles around the Spaniards before unleashing his lethal left-footed shots. Chile was impressive in a win over the Socceroos of Australia.
DAY THREE: Rosy Baez, seated in the front row of the Arlington Theatre, was disappointed by Colombia's 3-0 win over Greece. "I love Greek men," she said. She got a good look at them; they were bigger than life in high definition on the wide screen. There were only 15 others in the audience, as word had just gotten out that the Arlington would show — for free — all the 9 a.m. World Cup matches. Uruguay became the first South American team to suffer a setback against surprising Costa Rica, boosting the hopes of both Italy and England to survive in their group. Italy, which usually gets off to a slow start in World Cups, got the edge on England, which started even more slowly. In the Old Kings Road pub downtown, you couldn't move without rubbing up against an English fan. I took in the second half at Arnoldi's Café. After Mario Balotelli's header gave Italy a 2-1 victory, Bernardo De Albergaria, a native of Rome, treated his wife and 11-year-old twins, Dario and Gisella, to a feast of tiramisu.
DAY FOUR: Soccer has the advantage rule, which means that if the referee sees a foul, he should not blow his whistle and halt the play if the offended team has a chance to score. With time running out in the deadlocked Switzerland-Ecuador match, the referee got it right when he let a Swiss attacker recover his momentum after nearly being upended by a tackle at midfield. The result was a goal by Switzerland with just seconds to spare for a 2-1 victory. There was no drama in France's 3-0 victory over Honduras. The dazzling Lionel Messi got Argentina off on the right foot with the winning goal against Bosnia and Herzegovina.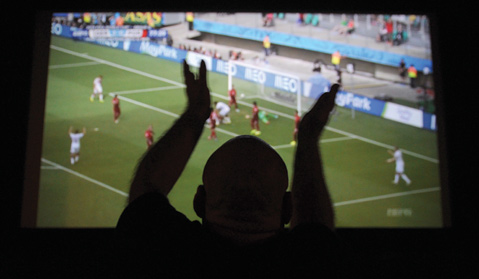 By Paul Wellman