Yoga and world-class outdoor rock venues are a curious pairing in most situations. Even I, a spiritually calibrated and part-time participant in the bendy arts, was given pause last Thursday as the sidewalks of my Santa Barbara Bowl neighborhood swelled with brightly dressed, shiny happy people toting yoga mats. They buzzed like partygoers but walked with suspicious purpose. This, I would soon learn, was tour stop #1 for The Soulshine Tour, a so-named "lifestyle festival" brought to us courtesy of Michael Franti & Spearhead, with a grip of some of their musically inclined and conscious-living friends like SOJA and Brett Dennen helping fill out the bill. The security shakedown at the gate was the lightest in recent memory.
Photo Gallery
Michael Franti's Yoga-Music Fest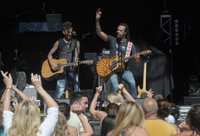 Snarky observations aside, it was a damn fine show by the end, Franti riding his good-vibes train more than a few clicks past the fabled 10 p.m. curfew time. The entire audience, albeit one that barely half-filled the Bowl's seats, was on its feet in a blissed-out, jump-up-and-down, noodle-arm ecstasy. It was impossible not to be lightened by the moment. I mean, just 12 minutes prior, an always barefoot Franti had left the safety of the stage during a particularly upbeat rendition of "Closer to You" and made his way to the very back row, celebrating his climb by jumping up and down on the "worst" seat in the place, surrounded by similarly jumpy and stoked kids. As he walked past me, I considered reaching out to touch the man and collect his sweat like some sort of teenage fanboy; the impulse was a dead giveaway I had drank the Kool-Aid. It was the first show of the 35-stop Soulshine tour, and its ringleader was going all out. Then again, I'm fairly certain Franti brings the A-plus posi-vibes each and every time.