Portugal's desperate game-tying goal Sunday stunned U.S. soccer fans, who were seconds away from celebrating a significant victory and a ticket to the World Cup Round of 16. But once the numbness wore off, Mike Wondolowski found himself savoring the prospect of another thrilling match, even at the risk of having his heart broken.
Ever since his nephew Chris Wondolowski became a professional soccer player — and is now a member of the U.S. team competing in Brazil — Mike has been fascinated by the twists and turns of the sport. He and his wife, Diane, made a trek from their Carpinteria home to join seven other members of the Wondolowski family in Brazil. They have followed the national team from the jungle at Manaus to its training base in São Paulo, and on to the Thursday (June 26) showdown with Germany at the port city of Recife. The U.S. needs a victory or a tie to be assured of reaching the World Cup's knockout stage next week.
"I am looking forward to the Germany game, both as an excited fan and as a nervous family member," Wondolowski said in an email message Monday. "It would have been great to guarantee an escape from the Group of Death last night. But now the U.S. has a chance to do it against Germany. That would be a great way to do it!"
Chris Wondolowski's approach to soccer reflects his uncle's enthusiasm. "He's an optimist," said Mike, whose older brother John is Chris's father. "He never gives up. He looks ahead and sees what good outcome can happen. He's not fast, but he makes runs when the defense doesn't expect it and achieves separation. He follows every shot when nobody else does, so when it's that one-of-50 times that the goalie bobbles the ball, he's there to nudge it in."
Chris made his World Cup debut in the late minutes of the Portugal game. He was the lone American forward, replacing Clint Dempsey. He wasn't there to score but to help the U.S. protect its 2-1 lead by retaining possession. "Wondo," as he is called, did his job, making several forays down the pitch. But a generous five minutes of stoppage time, a turnover by Michael Bradley, a lagging defense, a brilliant pass by Cristiano Ronaldo, and a header by Silvestre Varela, wiped out the lead.
Wondolowski's presence on the team is a great American success story. He grew up in the East Bay not far from Livermore, the hometown of his father, three uncles, and two aunts. "Livermore is the bread basket of soccer in the area," said Mike, a computer engineer who started his career in Goleta three decades ago. "We all played soccer, in addition to baseball, softball, football, and basketball."
The next generation was versatile, too. "Chris played baseball on a Danville team that won the PONY League World Series," Mike said. "He was a track star in high school. My brother John played soccer at UC Berkeley, so it's not surprising Chris took up the sport. But he didn't play on any youth national teams. He didn't get driven hundreds of miles to play in soccer tournaments."
Chris, ignored by major-college recruiters, attended Division II Chico State and made enough of an impression to be taken in the late rounds of the MLS draft by the San Jose Earthquakes in 2005. Five years later, after the club had moved to Houston and traded him back to a new San Jose franchise, Wondolowski's prowess blossomed. He won the Golden Boot as the MLS high scorer with 18 goals in 2010, and he scored a record-tying 27 goals in 2012, when he was named the league's MVP.
"It's weird to drive to the Bay Area and see Chris's face on a billboard," Mike Wondolowski said. "He grew up following the Raiders, and now they are wishing him good luck in promos. He threw out the first pitch in an A's game."
Chris's wife, Lindsey, and six-month-old daughter, Emersyn, are also in Brazil. "These U.S. players are just a bunch of regular guys with supportive and loving families," Mike observed. "They just happen also to be great in soccer." And this month, they are taking the nation on a tour through the joys and sorrows of their sporting lives.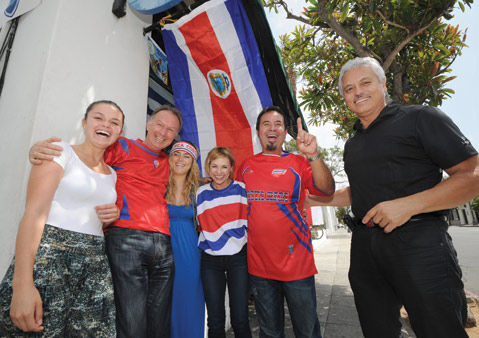 By Paul Wellman