In California's ever-increasing health-conscious and ecologically aware society, diners are seeking new restaurants to make a change for themselves and for the environment. And with the threat of drought still persisting through this past weekend's downpours, it's worth recognizing that a diet of fruit and vegetables uses far less water than one filled with dairy and meat. So whether you're a seasoned vegan or simply looking for a way to reduce your footprint on the planet, here are three dishes to try at three of Santa Barbara's healthiest and eco-friendly eateries.
Pumpkin Pecan Pancakes at Adama Vegan Comfort Cuisine: With a menu that is entirely plant-based, Adama offers a safe haven for vegans as well as a unique dining experience for anyone simply interested in delicious and healthy food. Although Adama launched in May 2011, it wasn't until about a year ago that they made the switch to a gluten-free kitchen — and they haven't looked back since. Owner Deeahna Arrieta said the move has helped gain even more customers, 50 percent of whom have gluten-free diets.
"This kind of cooking is a daily science experiment," she said. "I'm constantly manipulating basic ingredients to make sure a dish hits that comfort spot." In other words, when you order a quiche at Adama, you'll get something that actually tastes like quiche, even if it is vegan and gluten free.
To start your day off in that style, try Adama's pumpkin-pecan pancakes, a crowd favorite and their best-selling dish on the breakfast menu, which is on Saturdays and Sundays starting at 9 a.m. The contrasting textures of the crispy toasted pecans and the creamy pumpkin make for a rich and warming meal. The cinnamon-pumpkin flavor is even sweet enough to forgo the maple syrup if you want to keep your breakfast light.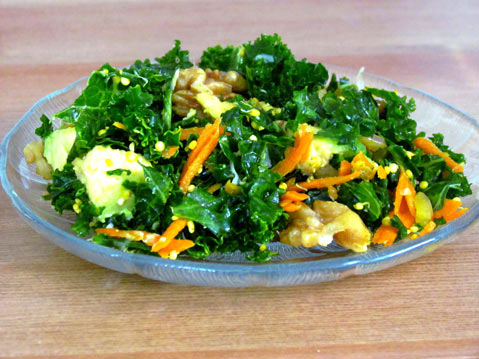 By Joanne Howard