Pat McElroy, the City of Santa Barbara's fire chief, is without doubt the best natural politician operating in Santa Barbara County that nobody ever voted for.
He damned well better be.
Given the dire challenges confronting every fire department throughout Southern California McElroy will need all his formidable skills, not to mention the proverbial luck of the Irish, to navigate the uncharted road ahead. Some of those challenges are excruciatingly obvious: extreme weather, prolonged drought, and the likely prospect that a backcountry blaze will turn into a front-country conflagration. Others are not so evident: Emergency medical treatment calls comprise 80 percent of the fire department's caseload. Of those, many involve people without insurance looking for a trip to the emergency room. If the Affordable Care Act does what it's supposed to, many such calls will disappear. But what does that mean for the allocation of fire department resources?
Where McElroy's career trajectory is concerned — front-line firefighter to union leader and political power broker to fire chief — luck has played a minimal role. But McElroy, incontrovertibly, is extremely Irish. Though not one to wave the Danny Boy flag about — or sport the faux "sure 'n' begorrah" brogue — it's a fact that McElroy's grandparents on his father's side emigrated from Ireland. So too did his great-grandparents on his mother's side. McElroy himself — full name Patrick Joseph Michael — came into the world on St. Patrick's Day 61 years ago. And what could possibly be more stereotypically Irish in America than working for the fire department?
In person, McElroy sports what's often described as a shock of prematurely white hair, thick black horn-rimmed glasses, and a semi-permanent, semi-sideways grin. Naturally, he has the signature mustache required of all males serious about a career in public safety. McElroy isn't particularly big, though he's still plenty sturdy even 33 years after first joining the department. But in conversation, he is irresistible, all enthusiasm, curiosity, and generosity. And it's all real, as is his obvious intelligence.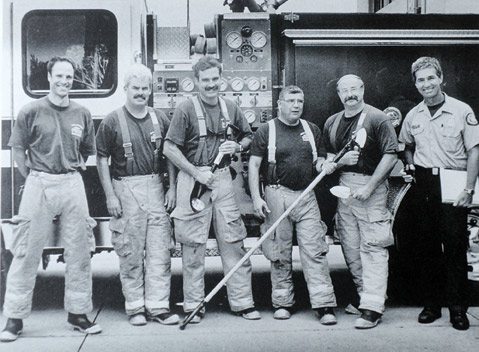 courtesy SBFD