Our lives are like movies that we don't script
But often we can catch a glimpse of their trajectory and rejoice!
Have you ever felt like some moments in your life were scenes from a movie? Often they are transcendent, pivotal moments we do not preplan or create, but they seem to just happen out of nowhere. However, these sudden, surprising, and profound experiences and our subsequent reflections on them help us to weave the other "scenes" of our lives together. They help us make sense of our segmented story and to synthesize our experiences so we can resynthesize, fuse, and reintegrate the moments and tell our stories. Well, I have just returned back to Santa Barbara from Nigeria where I experienced one of those life moments because in Ile-Ife, Nigeria, I met a real African king!
But I need go back a few months to tell you the story. I have been following the rise to success of the movie 12 Years a Slave for many months now. Even before the film came out for the first time in Santa Barbara, Gwendolyn Friday of the Santa Barbara African Heritage Film Series and I premiered the film at the S.B.'s Paseo Nuevo theater. We invited a group of Santa Barbara residents to the premiere, and after viewing the film, we asked the audience to stay and discuss their response to the film. We also had a panel discussion with a guest speaker from International Justice Mission (IJM), which is an organization on the global frontlines, fighting against modern-day slavery. Just one week before our premiere, IJM "freed" 15 women in India who were being held as modern-day slaves, making thread. If you look down right now at the garments you are wearing, you could be wearing clothes that contain some of those "slave" produced threads.
Another purpose of our event was to give voice to many people's emotional and deeper intergenerational traumatic wounds from experiences of violence, rape, slavery, and abuses of the distant past. This happened: One African-American woman ran out of the movie before it even ended, saying, "I just can't watch this; it is too painful! Others were just plan angry and upset. One European-American woman said, "We need to rub our collective noses in this — this is real, and this is still with us today."
12 Years a Slave went on to win Best Picture at the 2014 Academy Awards. However, two weeks before the awards, I had opportunities to meet the film's executive producer John Ridley and director Steve McQueen. At his interview at UCSB, John Ridley, who also wrote the screenplay, became very emotional and shed tears when talking about the scene where Patsy is beaten. John said, "I still can't watch that scene." Different experiences in our lives can trigger deep emotional responses. So back to the king.
I had traveled to Nigeria to celebrate the 100th anniversary of the digging of a well that is still in operation today and the building of a school by Pastor David Babcock. This well and school marked the first Christian mission work in Nigeria for my faith community, the Seventh-Day Adventist Church.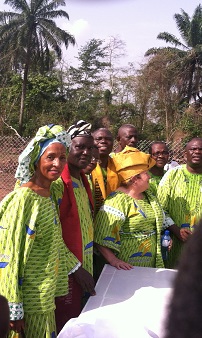 courtesy