If you've been around Santa Barbara High's J.R. Richards Gym lately, you've heard the cheers get really loud and seen the tears fill bright young eyes. It's been a special time at the old school. This weekend, two SBHS teams are poised to go as high and as far as they can possibly go — the Dons girls basketball team in the CIF State Finals, and the competition cheer squad in the USA (United Spirit Association) Nationals.
Hoop History
The Dons will face the Modesto Christian Crusaders in the Division III girls basketball championship game Friday, March 28, at 2 p.m., at Sleep Train Arena, home of the Sacramento Kings. Since the State CIF started pairing off the best teams from Southern and Northern California in 1981, this is the first time a Santa Barbara school will play for the ultimate title.
Two boys teams fell a game short — Dos Pueblos High losing a regional final to Servite in 1990 and Santa Barbara bested by L.A. Fremont in 1991. The Dons girls finally broke through the regional barrier last Saturday, scoring a 58-48 victory over Santa Margarita. They will take a 30-5 record and an 11-game winning streak into Friday's game.
Andrew Butcher cannot explain how this team has survived the pressure cooker of the post-season play-offs better than any other in the 32 years he has coached girls basketball at SBHS. "We're playing teams that are bigger than us and stronger than us," he said, "and I don't know how we're winning these games."
Maybe he would find it hard to write down a specific formula for success, but some qualities can be discerned.
TALENT: Amber Melgoza, a scintillating 5'9" sophomore, can score from anywhere, like Kobe Bryant when he was healthy. She averages 22.2 points a game, and she rang up 40, 38, and 34 points in recent play-off contests. Desiria Coleman, the team's only senior starter, is a rock-solid point guard; junior Jocelin Petatan is a dogged defender who plays bigger than her 5'6"; sophomore Jada Howard spearheads a press that piles up 17 steals a game; and 5'8" freshman Kimberly Gebhardt has an uncanny ability to come up with rebounds.
TOUGHNESS: Butcher describes Melgoza as "a great competitor to go along with her talent." During a recent game, he said, "She couldn't breathe, like she had asthma. 'I'm okay,' she said. I found out later that another player had hauled off and hit her in the stomach. Amber's response was to go on a scoring binge. They should be nice to her."
TOGETHERNESS: All 14 players on the Dons' roster are made to feel involved and important. "The kids on the bench can destroy a team," Butcher said. "Did you see the Duke bench [in Mercer's NCAA upset of the Blue Devils]? They looked scared and nervous. We're intent on playing with joy." The Dons picked up that theme from Angela Munoz, a player on the 1984 team, who sent Butcher a letter. "I read it to the team. She said to make sure the kids play with joy. Joy is our favorite player, our 15th man."
TEACHING: "We try to do all things correctly," Butcher said. "It's better if you don't get out of bed rather than go out and develop bad habits." His assistant coaches are Jess Martinez, whose 40 years of experience include head coaching at five different schools, and Carlina Gonzalez, a former Carpinteria player. "Carlina is great talking to the girls," Butcher said. "Communication is the main thing. It's more important than practice."
Butcher has been known to communicate in amusing ways. "Coach is a different guy," Petatan said. "He uses a lot of analogies. Once he told us he was in NASCAR and had to fix the tires in 10 seconds. I guess he was telling us every second counts."
Butcher's own high school basketball career could be measured in seconds. He made the varsity in his senior year (1975-76) at Santa Barbara and rode the bench. "I was the worst player who ever played for [coach Jack] Trigueiro," he said, "but I learned a lot about basketball."
He studied biology at UCSB and entered the erstwhile coaching minor program. He and a friend, Scott Blakey, started coaching the Dons in 1982. "They were desperate for somebody to coach girls," Butcher said. Blakey eventually moved on. Butcher, who earns income from property management, stayed, and he's still here, enjoying what he calls "the season that never ends."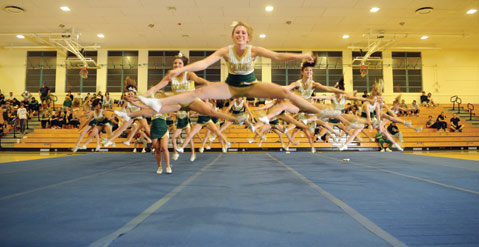 By Paul Wellman