It was a few days before Halloween 2012, and Craig Rudholm was on a plane, but he had no idea where he was going. Wearing a T-shirt and without luggage, he just hoped it was someplace warm.
Rudholm was a special education teacher at Santa Barbara Junior High School and a struggling alcoholic when, after a long week of work, he had a drink on Friday and kept drinking until he blacked out. He didn't snap back to consciousness until mid-flight and mid-conversation Sunday afternoon. A Concord native, Rudholm landed in San Jose and spent the next two weeks wandering around the Bay Area, drinking and sleeping in cheap motels.
He didn't say a word to anyone about his unplanned trip, so after missing five straight days of work, Rudholm's colleagues called the police. Detectives didn't suspect any foul play and said Rudholm appeared to be "voluntarily missing," but to make sure he was safe, they forwarded his photo to Santa Barbara news media and asked for the public's help in their search.
Two weeks later, police quietly announced that Rudholm had been found in Livermore but offered no explanation for his disappearance. School officials were similarly mum, and the news soon vanished from the public's memory.
Guilty and embarrassed by the episode, but now walking a road of recovery and redemption, Rudholm reached out to The Santa Barbara Independent to talk about his struggles, what he's learned about his addiction that could help others, and the hobby-turned-profession that, as he says, may have very well kept him alive.
Photo Gallery
Craig Rudholm Fish Prints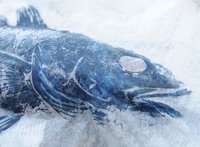 Therapy Through Fish
Since November 2012, Rudholm has lived at New House III, a sober living facility across from Cottage Hospital that for 59 years has helped addicts and alcoholics get back on their feet. Between meetings, programs, and a lot of introspection, Rudholm spends most of his days making art, specifically fish prints.
With canvases and paints set up on a shaded back patio picnic table at New House — and wearing one of his own fish-print T-shirts — Rudholm talked about how he derives a quiet but deep solace from the work and that it helps him stay sober. "Recovery and creativity come from the same wellspring," he said.
Rudholm's technique, which is inspired by the Japanese gyotaku tradition of printmaking to record fishermen's catches, is deliberate and tactile but deceptively difficult. He both catches his fish and collects recently dead ones from a number of places around town — Atlantis Aquariums offers him its weekly die-off, and the harbor fish market is always full of promising subjects — and cleans them before removing their eyes, gluing shut their gills, laying them flat, and bracing up their fins. (When the fish are really fresh, Rudholm said, he can work with them all day before cooking and eating them that night.)
Rudholm paints the scaly models with graphic inks, mimicking their colors and patterns as best he can, before applying thin glassine paper over their bodies and rubbing from mouth to tail to achieve a reverse image. Some turn out rich and detailed. Others look like blobs of pigment. But it's a challenge Rudholm enjoys and a process he's been refining for 16 years with sunfish, reef fish, salmon, bass, and so on. He's only recently gotten good at the smaller specimens by practicing on a few that expired in New House's lobby tank.
Depending on his mood and artistic whim, Rudholm may let the print stand alone on the canvas, or he may incorporate multiple rubbings to create dynamic, multidimensional collages. Some are vibrant and sunny. Others are decidedly dark and brooding. Walking through New House's halls, which are covered with more than two dozen of his works, Rudholm pointed to a piece called "Black Cod Forgetting How to Swim" and said, "If you want to know what depression looks like on the inside … "
Before his disappearing act in 2012, Rudholm had a show at Muddy Waters Café (which The Independent reviewed positively here) and set up shop at the Cabrillo Arts and Crafts Show, but with little luck. As he tells it, he hadn't fully committed to his identity as an artist, which is rooted in his love for the ocean.
Now, Rudholm is taking the endeavor much more seriously, and earlier this month, he sold his first print on Cabrillo. He also just opened a show at the Headlines & Company salon on West Mission Street and has set up this website. "I'm going to be successful," he said. "It's time."