Photo Gallery
Tour Diary: Beware of Darkness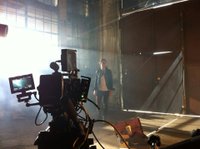 We asked frontman and Santa Barbara native Kyle Nicolaides to share some of his favorite memories from his year on the road. From Conan to Muppets, here are the highlights.
It's been a wild year for Beware of Darkness. The L.A.-based garage rock band, fronted by 23-year-old Santa Barbaran Kyle Nicolaides, has spent the bulk of the past 12 months touring the world, sharing stages with legendary acts like The Smashing Pumpkins and Jane's Addiction. This week, Nicolaides and bandmates Tony Cupito and Daniel Curcio wrap up their travels with a homecoming concert at SOhO. Here, Nicolaides shares some of his favorite snaps and memories from his rock 'n' roll road trip.
4•1•1
Beware of Darkness plays SOhO Restaurant & Music Club (1221 State St.) on Thursday, May 1, at 9 p.m. Call (805) 962-7776 or visit clubmercy.com for tickets and info.