It's no secret that morale is low in the Santa Barbara Sheriff's Office. Even its leader admits as much. But where Sheriff Bill Brown says occasional grumblings come from six years of budget cuts that whittled the department's ranks by a 10th, his challenger in this June's election, Sergeant Sandra Brown (no relation), claims there is pervasive discontent among the troops who fear and distrust their boss.
Motivated by that concern and a list of desired changes both practical and philosophical — like focusing on education and intervention rather than incarceration, rethinking and reworking public safety strategies, and creating an environment of shared leadership — Sgt. Brown represents the first organized challenge to Sheriff Brown's seat since he was elected in 2006. He ran unopposed in 2010.
With 36 years in law enforcement, the sheriff previously served as Lompoc's police chief and held the same post in Moscow, Idaho. He's married with three children and is a Lompoc resident; he's a self-described history buff who likes to fish and golf in his limited off time. From Governor Jerry Brown to former congressmember Elton Gallegly, and from District Attorney Joyce Dudley to Supervisor Steve Lavagnino, his endorsement list is long and diverse, as are the donors to his reelection campaign.
Sgt. Brown has been with the Sheriff's Office for 17 years and currently oversees its Coroner's Bureau. A former narcotics detective, she's also heavily involved with area nonprofits, sits on the board of CASA (Court Appointed Special Advocates), and was a cofounder of the Deputy "Explorer" program. She likes to paint and sculpt, and her Orcutt home is filled with eclectic artwork. Her donor and endorsement roster is similarly mixed though not as deep, and she counts Supervisor Peter Adam among her biggest supporters.
Through conversations with both Browns, as well as their fans and detractors, it's clear that this election is defined by differing opinions over a few key issues, namely fiscal management, problems at the jail and the need for a new North County jail, the lead-up to and the fallout from the Deltopia riot, and possible dissension in the ranks.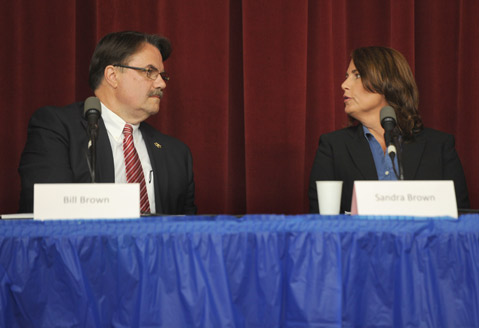 By Paul Wellman