It's a paradoxical truth: They are the origin species of society's beloved dog, yet humans have relentlessly persecuted and killed the gray wolf. Now on and off the endangered species list, the Canis lupus story is a tragic one. No two people know this better perhaps, than wildlife filmmakers Jim and Jamie Dutcher, who spent six years intermingling with a group of wolves in Idaho's Sawtooth Mountains to study the emotional and social dynamic of this misunderstood creature. The pair documented their experiences in a beautiful, highly informative book called The Hidden Life of Wolves.
In 1990, the Dutchers were given a special-use permit from the U.S. Forest Service to create an expansive space in which they would live with a pack of wolves. To be allowed intimate access by the animals, however, they had to create their own pack. After great searching, they were given a male, female, and four pups from rescue and research centers in Montana and Minnesota and the Sawtooth Pack was born. "Under the looming peaks of Idaho's Sawtooth Mountains…we built a vast enclosure, rich with aspen groves, streams, ponds, and meadows," the Dutchers write in Hidden Life. "From the beginning, it was our hope that these wolves would act as ambassadors and educators, guiding us to a better understanding of their species."
For the next six years, the Dutchers devoted their lives to observing the Sawtooth Pack. To gain the trust of the first residents, they bottle fed the pups, taking care of their needs around the clock. The four little ones bonded with the Dutchers, playing with the humans and even curling up on their laps. "We raised them from puppies so they didn't fear us," said Jim in a recent phone interview. "But we didn't over-assert ourselves into the pack; we were just observers, and they went about their business and we went about ours. If you go out into the wild and you try to film wolves they're so impacted by your presence that they change their natural behavior." Added Jamie: "We never tried to dominate them or submit to them, and so in turn everything was very neutral; we were able to observe them without changing their behavior.
During their years with the pack, the Dutchers learned myriad myth-dispelling truths about wolf behavior. One particularly surprising—and touching—observation was how compassionate wolves are to their members. "A mountain lion killed one of our wolves and the pack's behavior changed," Jim explained. "They were mourning this loss of this member…They stopped playing completely—wolves play all the time, even into old age—for about six weeks."
Since leaving the Sawtooth pack in 1996, the Dutchers have devoted their lives to educating people about the true nature of these elusive and wondrous animals through lectures, films, their nonprofit Living with Wolves (livingwithwolves.com), and now their book Hidden Life. Published by National Geographic, Hidden Life is comprised of more than 200 pages of stunning photography, personal stories, and stand-alone sections that, for example, describe wolf behavior and communication; depict the former and current range of the gray wolf; and introduce the Sawtooth wolves via a family tree. It's an essential tome that allows people a rare glimpse into the complicated social fabric of the North American gray wolf.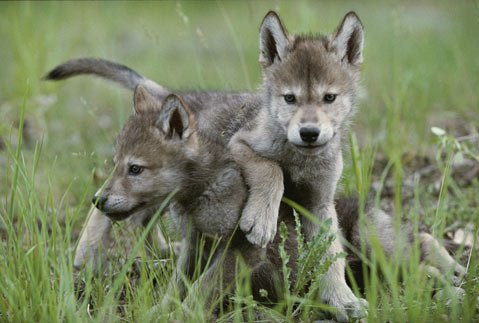 Jim and Jamie Dutcher