Health Food/Nutrition Store
Lazy Acres Market
302 Meigs Rd., 564-4410
In the olden days, the grocer provided sundries and provisions, as well as a social hub. Lazy Acres sounds like a country store with a cracker-barrel checkerboard, and even though it's slicker than that in real life, it has become clubby. People shop in the extensive produce, meats, deli, bakery, and wine departments, but they depend on the surprisingly stable crew of employees there for advice on vitamins, houseplants, and which cheese goes with which kale cracker. There's a small café with a daytime crew of regulars, and another gang descends on the place late at night when the prepared foods go on sale. Most of all, however, it's the alternative, old-school feel—you are in a grocery store but one more friendly than corporate.
FINALIST: WHOLE FOODS MARKET
Fresh Fish Market
Santa Barbara Fish Market
117 Harbor Wy., 965-9564
This is the one that is in the harbor and not the fishermen's market that takes place on the pier Saturday mornings. But the Fish Market deals with many of the same harvesters of the bounding main, and even if their home pride is closely caught fish, there are other deep-water delicacies like Maine lobster available. The shop is tiny, sweet smelling, and always hopping, but the prices are fair, and the people who sell you seafood never seem fishy.
FINALIST: KANALOA SEAFOOD
Produce Stand/Greengrocer
Tri-County Produce
355 S. Milpas St., 965-4558
It's not centrally located, and Tri-County has loads of competition, including two fancy health-food emporiums, a lot of local farms, and, of course, the daily occurrence of farmers markets in the area. But these guys take it every time. With a nice open feeling, a mania for freshness, and a very organized interior, this no-nonsense, reasonably priced, friendly store has been the green standard for decades—the place to beat.
FINALIST: FARMERS MARKET
Ice Cream Shop
McConnell's Fine Ice Creams
Two locations
Generations of Santa Barbarans had their first ice cream brain freeze on chocolate burnt almond at a McConnell's store. Or, let's be less cynical, got rewarded for their first great report card there with a scoop of peppermint stick. Come on, where's the romance? Had a perfect date and then, after dinner, enjoyed a Turkish coffee. And the rest? Maybe just because you were older now and remembered how good it tastes, you wandered in one night apropos of nothing for a Dutch chocolate, the one your parents always had and then realized why. It's real Santa Barbara taste, and for the ages.
FINALIST: RORI'S ARTISANAL CREAMERY
Frozen Yogurt Shop
Yogurtland
Two locations
If people want to pretend that this stuff is morally superior to ice cream, let's just add: whatever. It's still cold, sweet, and refreshing. Probably the best part of this experience, health-wise, is the control you have going in and coming out of that fabulous domain known as Yogurtland. Grab a cup. Pick a cold flavor base with as little or as much as your frame and pocketbook will bear. Top with items both fresh (berries) and frivolous (gummy thingies). Then consume. If it tastes like ice cream and it rewards your cravings, don't pretend any great nobility. You're just smarter.
FINALIST: McCONNELL'S FINE ICE CREAMS
Chocolate Company
Chocolate Maya
15 W. Gutierrez St., 965-5956
"People vote for us because we really use high-quality cacao when we make our chocolate," said owner Maya Schoop-Rutten, who is proud of the new truffles she recently added. "And that means our chocolate has no junk in it, no additives or fillers. It's just delicious and good for you." Recently she has been touring the world and giving seminars on the art and politics of the bean she loves. "We pay the farmers well, and we get high-quality chocolate."
FINALIST: SEE'S CANDIES
Bakery
Renaud's Patisserie and Bistro
Many locations
Nicole and Renaud Gonthier know they are not on any tourist's itinerary. Their main store is way up in the functionally blessed Loreto Plaza, sandwiched between a gaggle of readers' first picks. "I guess we have made a name for ourselves," said Renaud, who is happy about the crowded patio in front of their tiny storefront, "probably because we take a lot of pride in what we do, and I think our salads are as good as our pastries. But basically our business is almost entirely built on repeat customers from Santa Barbara."
FINALIST: JEANNINE'S BAKERY
Doughnut Shop
Spudnuts
Many locations
You have to admit it doesn't sound appetizing, the hybridization of the sinker and the potato, except in a belly bomb sort of way. Yet ever since the small chain opened in this town—and there's a new one in Isla Vista this year—Spudnuts has monopolized the market. The whole town, and our readers, love these sweetly imbued, deep-fried, tuber-infused confections.
FINALIST: ELLER'S
Cupcakery
Crushcakes & Café
Many locations
This is a trendy food item that became an empire. The original Crushcakes in downtown S.B. near the library and art museum, the now-activated arts corridor, was not enough for Shannon Gaston, who finally earned the Best Of that her family members earned for starting Bitterman's and Giovanni's. "I wondered if my turn would come," she joked. Now there are about to be four Crushcakes, even one in the heart of the Loop of fabled Isla Vista across from the former Magic Lantern Theater. "I think we've made it because my workers just have so much passion for what they do," she said, noting that they serve sandwiches and salads, too. They have also begun to make cakes, wedding cakes, a lot of them. "We try to stay versatile just in case cupcakes are replaced by apple pies. We can make pies."
FINALIST: ENJOY CUPCAKES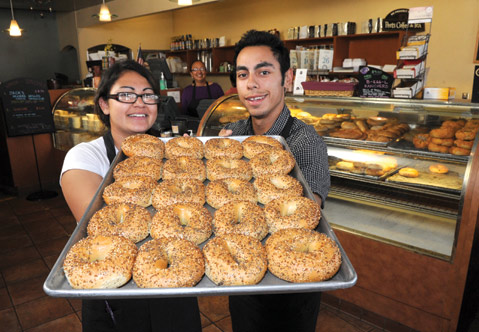 By Paul Wellman