Nursery
La Sumida Nursery
165 S. Patterson Ave., 964-9944
Things are changing in the natural world, and La Sumida is trying to help people and plant life cope with it. "We've got a lot of lawn removal going on," said manager Dee Honer. "People are buying a lot of lawn substitutes like succulents," she added. This is a typically steady business time of year, and La Sumida is doing its best to keep up with the times and the changes. They have enormous vegetal resources there. "And luckily we have a lot of experienced staff, too."
FINALIST: TERRA SOL GARDEN CENTER
Home Furnishings Store
Cost Plus World Market
610 State St., 899-8311
When you simply must forgo the pleasure of living on thrift-store couches and mismatched hand-me-down chairs grouped around shelving that was put together with boards and big bricks—and yet you have not reached the point where John Saladino is putting together an ensemble of artfully mismatched designer pieces and obscure Etruscan weaves—you go to Cost Plus. With nice taste, great prices, and a showroom that's also filled with unusual wines, crazy snacks, and Day of the Dead skull candles from Mexico, it's a trip around the world.
FINALIST: ONWARD ART & DESIGN
Real Estate Firm
Village Properties
Many locations
Ed Edick said part of it is just the numbers. "We're the number one agency in volume of sales. And hopefully the people who took part in those sales are happy. So even if clients of other agencies were happy, we would still have more happy people." Edick is being slightly facetious; he and his partner, Renee Grubb, not only run a service-minded realty company but also reach out into the community. In the past years, they have raised a million dollars for the Teacher's Fund, giving a lot of their own profits as well as involving agents and townspeople. "We have strong marketing and great people working for us. We're very happy; it's fun to be number one."
FINALIST: KELLER WILLIAMS
Real Estate Agent
Louise McKaig
637-4774
After the big recession, Louise McKaig, who had been selling real estate for less than a decade, decided to travel around the country and study success. She wanted to know how people, contracts, and things worked in a coordinated manner. She said she learned how to work. "Most of all, though, I think people voted for me because I really care about my clients," said McKaig, who works for Village Properties. "I care about them, and they seem to care about me."
FINALIST: STEVE EPSTEIN
Moving Company
Movegreen
1 N. Calle César Chávez, Ste. 130, 845-6600
"It's great to win," said owner Erik Haney, who celebrated just seven years in the business and has taken this category for the last four. "I think people like us because we go above and beyond the requirements to make our customers happy. I think the ecological twist helps with our image, but the greatest factor is that we are in a service-based business, and we give extra for our clients."
FINALIST: MAMMOTH MOVING & STORAGE
Electronics Store
Best Buy
7090 Market Place Dr., Goleta, 571-3999
It's the idea of a department store but for the other world that surrounds us—our electronic net: fancy phones from Apple and Samsung, computers, stereos, televisions, and all of the accompanying paraphernalia from wire connectors to video games. Technology is no longer the exclusive realm of engineers and hi-fi geeks; it's the air that we breathe and communicate through. This place makes it even easier to negotiate.
FINALIST: RADIOSHACK
Antique Store
Antique Alley
706 State St., 962-3944
Alan Howard's conglomerate of 20 vendors is what he often refers to as "great entertainment." It's nice to get lost looking at quaint dishes and jewelry, reading titles of old books, thumbing through boxes of postcards your mother might have written. Nowadays, antiques can easily refer to the 1960s, which doesn't seem right to youth-obsessed boomers. On the other hand, it is cool to look at real troll dolls, Augie Doggie action figures, and novels like Stranger in a Strange Land that seem foreign nowadays but defined the era they survived.
FINALIST: SUMMERLAND ANTIQUE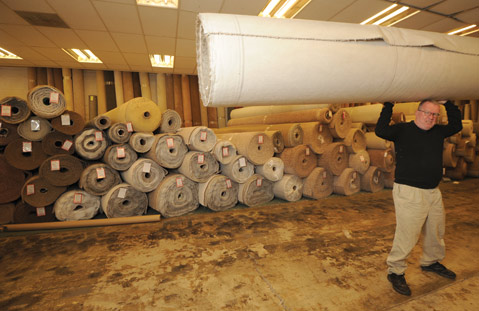 By Paul Wellman