Place to Buy Intimate Apparel
A Tropical Affair
12 E. Cota St., 730-1625
After 14 years in the business, they've heard it all: intimate apparel, enticing undies, naughty bits, and, of course, elegant lingerie. They also sell bikinis. But the best part of A Tropical Affair is that in a tiny shop, they purveyors have managed to best a gigantic underthings empire we won't mention besides noting its spurious connection to the Victorian era. Owner Heather Taylor has put together a plain-speaking boutique with such intelligent extras as a gift registry to nudge the shy suitors and a selection of garments with a wide variety of labels and names but with one common denominator: The inducement of torrid response is virtually guaranteed.
FINALIST: VICTORIA'S SECRET
Caterer
Pure Joy Catering
111 E. Haley St., 963-5766
Lynette La Mere is thrilled to win. She's been in business for nearly 14 years and is on a tear, winning media awards for Most Beautiful Event and top 25 women-owned businesses. But La Mere, who employs more than 300 people at any given time, credits fresh farmers' markets ingredients, her sparkly staff, and one more thing—"Our delicious homemade food," she said—for the win.
FINALIST: RINCON EVENTS
Florist
Victor the Florist
135 E. Anapamu St., 965-3075
It was RaeAnne Alvarado's grandfather Victor Sourmany who started the florist's in 1930. Her father, Maurice Sourmany, left the business in her capable hands, and she has four children ages 17-23 who are ready to carry the floral torch forward. It's a dynasty, but Alvarado likes to joke that it's something else people love: "It's the pink building. Actually, our customers know us, and they've been coming here forever," she said.
FINALIST: KALEIDOSCOPE FLOWERS
Bridal Shop
Panache Bridal
1315 State St., 892-4000
"We probably won because we exude everything right for the bride," laughed Kimberly Allen, who has managed this store for the last seven years, since before it was Panache. "We have the right ambience, the right attitude, and a plethora of dress designs." Allen said she has seen just about everything and understands why some brides-to-be walk in the door with gigantic complexes on their shoulders. "I've trained myself to deal with everything with a big smile on my face. We're all human, and we all want the best experience possible, which is what we try to give them. How can you go wrong with that?"
FINALIST: THE DRESS
Wedding Cake Shop
Your Cake Baker
Two locations
"We have the highest quality, on-time delivery, and fast turnarounds," said Wayne Kjar, who was raised in the profession—his dad started Henning's decades ago. A lot of other wedding-related businesses have taken a dip in the post-recession economy. "Not us," said Kjar, who opened a second store in Montecito this year. "We're up 40 percent over last year. We did 500 weddings, and we're close to that again. We are so happy the readers found us."
FINALIST: HENNING'S CAKE BOUTIQUE
Tuxedo Rental
Mission Tuxedos
135 W. Mission St., 569-3334
Let's face it: Some people win because they are the only game in town. This is basically true of Mission Tuxedo, though it won for many a year when the town was crawling with rent-a-suit purveyors. John Murray's store first opened 30 years ago and gradually started losing competitors as the economy waned. Last year, King Tux left, and Men's Wearhouse stopped offering tuxedos. "The special-occasion business has not come back after the recession like other businesses did," he said. But even when the town was crawling with formal wear, they did well. "It's great that we won, and we're very happy," he said.
FINALIST: MEN'S WEARHOUSE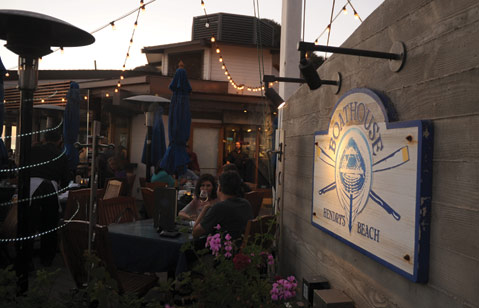 By Paul Wellman