A golf explosion has engulfed the Oxnard/Ventura area, and public course golfers are the beneficiaries. The local municipalities have put a great deal of effort into reworking or creating four championship layouts. After the round, many interesting restaurant choices are nearby, and for overnight stays, Marriott's Residence Inn at River Ridge would be my pick.
The Golf
In the past couple of months, I have had a good look at River Ridge, Olivas Links, and Buenaventura, and I was pleasantly surprised. They were all in excellent condition, especially Olivas Links, which has an advantage other course operators will want to take note of. They planted paspalum grass at Olivas Links, which allows them to water the course with salty water. This is especially helpful in our current drought conditions. The course was in immaculate condition, the envy any local country club. The layout is links style and perfect for the strong wind they get each afternoon. The wind comes up about 11a.m., so early morning rounds will miss most of it. Not a home in sight here, just pure golf with great mountain panoramas. Olivas Links has a large range, chipping green, and putting green.
River Ridge has two championship courses: the Victoria Lakes and the Vineyard routings. Victoria Lakes is probably the more challenging layout with a hilly stretch early and late. Most of the course is free of homes, which is something I always enjoy. Again we found the conditions to be excellent with a bit less wind here. River Ridge has a huge practice range with two short game areas to boot.
Buenaventura is the shortest course of the bunch but was also in very good condition. This would be a good fit for less experienced players.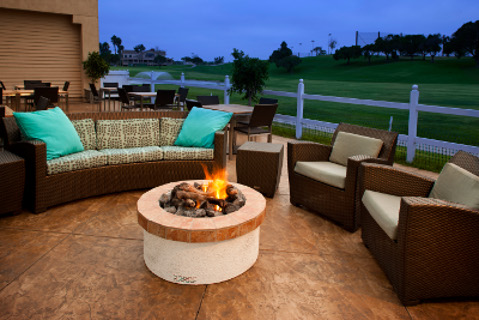 courtesy