One regional issue heating up this midterm election is the $288 million facilities bond known as Measure S to spruce up and replace a number of buildings at Santa Barbara City College. Area voters have passed most school facilities bonds in the past several years, but this measure has ignited more debate than college administrators would probably like.
Most noteworthy of late is that the notoriously tax-friendly Democratic Party of Santa Barbara County decided to take a neutral position on the measure. Discussing the matter at the last meeting, longtime housing advocate Mickey Flacks expressed serious frustration that the college does not provide residence halls for students, cramping an already tight rental market. An overwhelming majority of the 35-member committee ended up voting to not support the school facilities bond. They have consistently supported similar measures in the past.
"When you have a large population of students essentially without any adults in the area and without any concern on the part of the institution," Flacks said, "you are going to run into problems." College officials have acknowledged the need for housing but have maintained they need to first examine a long-term plan. "It isn't that we haven't been looking," Trustee Peter Haslund said. "So far the answer has been elusive." He added he is disappointed that the party did not support the measure, but he didn't expect their endorsement to be a slam dunk. "It's part of a healthy dialogue," he added. "Serious people disagree."
The lack of endorsement from the Democratic Party is at the very least a logistical setback for the "Yes on S" campaign because the slogan will not appear on door hangers or pamphlets, and the committee will not sponsor phone or door-to-door efforts ​— ​though area Democrats can still campaign individually. Of the decision, SBCC President Lori Gaskin said, "To me, it's not a partisan issue … I don't want to confuse our needs to modernize our existing buildings with anything that is political. It is a genuine upstanding need." A 55 percent vote is needed for the measure to pass.
Part of the difficulty with housing is that it's unknown exactly where SBCC students live. Students often fill out their parent's address on school forms even after they leave home. About 1,200 SBCC students indicate they reside in Isla Vista, but Gaskin estimates between 2,200-2,500 students actually live in the robust college town, based on preliminary data from a recent empirical study. Others claim as many as 5,000 students live there. A few hundred students live in Tropicana Gardens, which on its website is advertised as specifically for SBCC students.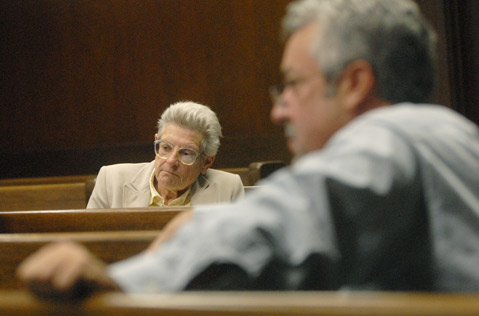 By Paul Wellman