There are three goals when one embarks on Erin O'Rourke's four-hour, sipping-swallowing-stepping jaunt through seven meaningful spots across our town's extremely edible landscape: One, get entertained; two, get educated on both the food you're eating and the Santa Barbara you're seeing; and three, get, in O'Rourke's words, "moderately and pleasantly full."
Had my experience on the Savor Santa Barbara Food Tour ended after our first stop at Rudy's Mexican Restaurant on West Montecito Street, that triumvirate would have been tackled: One, I'm easily entertained, and O'Rourke spins a good yarn; two, I didn't know the eatery was founded at that location in 1976 by an immigrant from Michoacán named Rudy Alvaro, whose kids now run all five locations; and three, the crispy beef taco, handful of handmade tortilla chips, and gaggle of salsas blended that morning were quite satiating.
But there is no dillydallying allowed on the 11:30 a.m.-3:30 p.m. crawl, which happened to turn one year old on the August 29 morning I joined. "We like to keep our hot food hot and our cold food cold," said O'Rourke, who aids her tight schedule by warning the next participating establishment on the tour with cell-phone calls and text messages.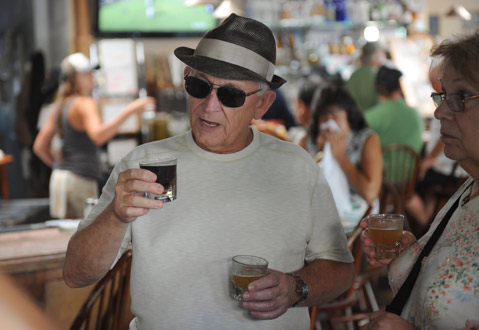 By Paul Wellman