Solving a problem in isolation tends to have bad side effects. Water supply is surely important right now, and the ocean looks like a lot of water. This, unfortunately, is a mirage. In energy terms, the ocean at our feet is about as far away as the Yukon; in other words, constructing a pipeline to get water from the Yukon costs less than desalinating water for the city's population. "Solving" supply with desal takes so much energy it compounds climate change, exacerbating future droughts. It is so expensive, when rains return, it will be tempting to open the gates to high-end development to help pay for the idle plant. More development, of course, will make it tougher to balance the water budget when the next drought comes — unless we expand the desal plant …
This downward spiral could be called the "State Water Effect." (Advertised cost: $270 million. Actual cost: $1.76 billion. Growth induced: One percent of promised supply per year. Water delivery during drought: zero.) Or the desal effect: Cost in 1990s: $34 million; water delivered when needed: zero.
Looking beyond desal to other potential water sources, what Los Angeles has found is that to address interconnected problems with attention to the big picture tends to have extremely good side effects. Los Angeles has become an emerging leader in collaboration among certain departments. The city is realizing more benefits by considering all the relevant factors at once among and between the departments of too much water (flood control), not enough water (water resources), and too much mulch (solid waste).
For example, Los Angeles' Department of Water and Power estimates that improving rain infiltration there could supply a significant fraction of the city's water needs. (This is arguably the biggest omission from Santa Barbara's water supply modeling, though adding it is under discussion. A modest pilot project could provide the data needed to assess how much this practice could help balance our water budget.) The beneficial side effects also include more and cleaner dry season creek flow, reduced pressure on landfills, less air pollution, reduced flooding, increased soil fertility, and reduced climate disruption. A solution like this only comes about with collaboration.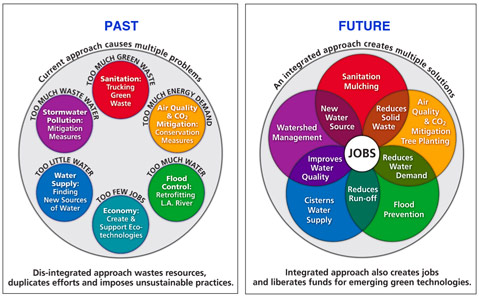 Courtesy TreePeople: treepeople.org