Whether you know it or not, your car is a veritable ecosystem for the thousands of small critters that live in the Santa Barbara area. In our experience, at least eight out of 10 vehicles have evidence of critter infestation.
Mice and rats are the most common and most damaging critters that get into cars. Attracted by the heat of the engine and/or the interesting smells in the car, they will chew on anything rubber, chew through wires, tear up insulation and filters for nesting, and leave droppings in their wake.
The pictures show a little rodent nest we found in a car's air filter — part flora, part fauna, and part filter — wedged between the filter and the housing. The black box is the air filter housing that protects the filter, and also the nest. Not a lot of room, but look how much fluff the rodent stuffed in there! The car's owner had no idea it was there, reducing the car's efficiency.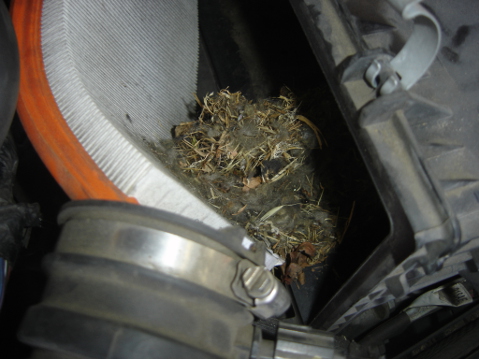 Jan Douma