Charles Lloyd plays by his own rules ​— ​whether it's blowing on sax with bluesman Howlin' Wolf in Memphis while in high school or attending USC in the late '50s by day while jamming with L.A. jazz greats by night or blasting off to rock star fame in the '60s with the likes of the Grateful Dead, Cream, and Janis Joplin.
Lloyd continued his own journey when he suddenly disappeared from the music scene in the late '60s ​— ​at the height of his popular success ​— ​to watch hawks soar over Big Sur and to nurture his spirit. When Lloyd … slowly … emerged from Big Sur in the mid-'70s, it was to move to Santa Barbara: first by living part-time at Beach Boy Mike Love's Montecito beach house and then moving permanently to the hills of Montecito in the '80s.
Since then, from what he describes as his "laboratory and ashram" close by the Vedanta Temple where he worships, Lloyd expanded his vision. For the last 30 years, he has performed around the world on tenor saxophone, flute, and Hungarian tárogató and made 17 records of extraordinary range, including his Wild Man Dance suite, released last week on Blue Note Records to enthusiastic international reviews. On Monday, April 20, Lloyd was inducted as a 2015 Jazz Master by the National Endowment for the Arts, the "highest honor that our nation bestows on jazz artists," according to the NEA.
On a recent Saturday at home, just 24 hours after the New York Times had published a long, flattering profile and featured Lloyd's work on its popular Popcast, he was days from departure for the NEA ceremony at Lincoln Center, and from his performance of the North American premiere of his "Wild Man Dance Suite" before the ancient Temple of Dendur, an Egyptian sanctuary reconstructed within New York's Metropolitan Museum of Art. Sitting in his kitchen, though, Lloyd was serene, not excited.
"I don't live in excitement like that. My approach to excitement is that that stuff leads to expectations, and expectations can ruin many a great joy," he said. "Basically what is going on with me is that I live in the now. I don't get into future."
This Thursday, April 23, in San Francisco, Lloyd kicks off a four-night stand with three different bands: first the "Wild Man Dance Suite" ensemble made up of American, Greek, and Hungarian musicians; second his main working New Quartet with Jason Moran (piano), Reuben Rogers (bass), and Eric Harland (drums); and third, Charles Lloyd and Friends, featuring cosmic guitarist Bill Frisell.
Lloyd then brings Charles Lloyd and Friends, including Frisell, to his annual residency at the Lobero Theatre on Tuesday, April 28. "I like playing here at home," Lloyd said. "The people who are inviting us ​— ​they care. It's like that."
Lloyd has had a busy spring. In New York in March, on his 77th birthday, he rocked the Village Vanguard with the New Quartet, to more gushing ink in the New York Times. A documentary, Arrows into Infinity, released on DVD last year about Lloyd, just became available on iTunes. It's codirected and coproduced by Jeffery Morse and, crucially, by Dorothy Darr, the painter, filmmaker, photographer, and architect who is Lloyd's longtime partner and business manager. After the Lobero gig, Lloyd will headline festivals across the U.S. and Europe, starting with the New Orleans Jazz & Heritage Festival on May 2.
On that recent Saturday, Lloyd had just finished off a cold smoothie and was wearing a thick jacket and a knit cap against the resulting chill when we first met. He was "looking for the right zone," he said, which is where he wants to be whether engrossed in a solo onstage or when talking to The Santa Barbara Independent at home.
Lloyd's home with Darr, designed by her, is amazing: Beyond the walls filled with artworks, many by Darr herself, beyond the grand piano and the resting sax, through soaring living room windows, across parched grass, lay a vertiginous view of the Santa Barbara coastline and islands.
Lloyd signaled that we should sit at the kitchen table so we could see the harbor view as we talked. Lloyd has an expressive voice, and he usually answers with an opening motif, inventive riffing, modulation to related concepts, and then, engagingly, resolution to the original question.
Drought
Like everyone, the drought is on his mind. Lloyd is a "water guy," he said, starting with his birth in Memphis during a flood. Arrows into Infinity features long cuts of ocean waves, rivulets across pavement, and bright orange fish swimming.
"It hurts," he said of the drought, which is particularly bad in the aquifers underlying Montecito. "When we moved up here, there was a creek that ran year-round. Things like that are big concerns for me ​— ​our environment."
"I'm not going to solve this," he continued, "but I want to make a sound universe that can transform things. That's what I'm working on. I would be a hypocrite if I just told you that we have to make a plan, because I'm getting ready to go out there and get on a whole bunch of fossil-fuel airplanes."
NEA

Jazz Master

The 2015 NEA Jazz Master Award likewise contains crosscurrents. Given Lloyd's intense, international composing, performing, and recording, he's not contemplating victory laps on the lifetime achievement circuit. His universalistic music transcends "Jazz" in the popular sense. The NEA is government, which Lloyd bypassed during the Cold War to perform in the USSR at the invitation of Soviet artists. Lloyd, however, appreciates validation, and he's sensitive to having been overlooked.

"I learned a long time ago that I would have to be able to endow my own creativity," he said with a catch, quietly looking at the harbor, "and, in so knowing, and in so doing, I never held my breath for the gold-plated watch because I didn't expect it; but when it does come like this thing [the NEA award], it's an honor because of the company that I keep, like Miles, Ornette, Sonny Rollins, Wayne."

Lloyd pondered ageism in institutional arts since Moran, 40, his principal working pianist, received about $500,000 from a MacArthur Foundation "genius grant" in 2010 "to do what you want," while the NEA Fellowship is much less and is awarded to older musicians. This year, the musicians inducted with Lloyd are jazz composer, pianist, and leader Carla Bley, 78, and composer, hard bop saxophonist, and leader George Coleman, 80.

"To at least be considered in your lifetime, in a culture that hasn't been very kind to its artists because of the setup of the world, it's a great honor," Lloyd said, slowly. "My spiritual practice is about nonattachment and to beware of cravings. I learned to sublimate that stuff and not be chasing that thing. So, of course, it's great."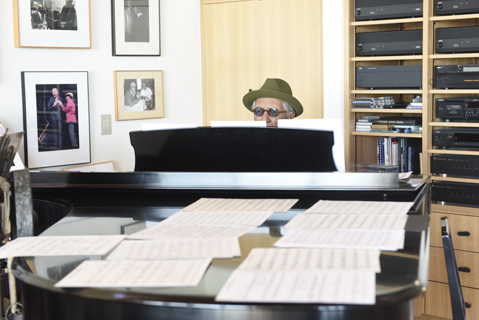 By Paul Wellman