With all due respect to Ernest Hemingway, Fiesta truly is a movable feast — you just move from one food booth to another, digging into something different with each step. Santa Barbara sure isn't Paris, but when Fiesta rolls around, you'll find the best open-air concentration of spicy food this side of the border. And you'll never go back to Taco Belch.
We're talking about booths ringing De la Guerra Plaza (aka Mercado de la Guerra) downtown and MacKenzie Park (Mercado del Norte) at Las Positas and State Street, all benefiting nonprofit agencies. And don't forget about the extra-especial mercado at Our Lady of Guadalupe Church on Nopal Street on the lower Eastside, where some of the most authentic Mexican dishes can be found.

Let's start with the rich cornucopia at De la Guerra. First, I'll be heading for the El Zarape booth, where my old friend Raul Gil is creating tasty tacos of pork, beef, and goat. Yes, I said goat, and if you haven't tried one of these traditional snacks, dripping with hot sauce, you haven't had a real Fiesta.
Next stop will be the place that always has the longest line, the Old Spanish Days booth. The popularity is partly because it's the first booth when you enter the plaza, but it's also because of the burritos they serve, jammed with either chicken, tasty carne asada (marinated steak), or carnitas, the slow-cooked, kinda crispy pork bits originally from Michoacan.
I've been loitering around Mercado de la Guerra since 1960, and faithful readers know that I moan about the shortage of enchiladas there every year. I'm very happy to report that the United Latin American Pentecostal Church heard my plea to the Almighty and will be serving chicken, cheese, and tender beef enchiladas this year!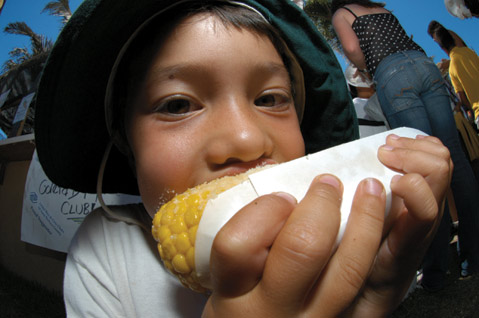 By Paul Wellman (file)