On Saturday, August 1, Velvet Jones hosted a slew of area bands: Royal Suns, Sun Daes, Bonny Doon, and Randall Sena. The show was attended by a sparse but enthusiastic audience, of which a few were regulars of the S.B. music scene.
Orcutt natives Royal Suns started up the show around 9 p.m. with an impassioned indie-rock set as showgoers trickled in. While the band members are young — lead singer and guitarist Liam Kitchen just graduated high school this year — their performance was a well-practiced art. I suspect that these rockers would have pulled a significantly larger crowd if the show had been all ages. The band had a solid awareness not only of themselves onstage but also of the small crowd they had gathered toward the end of their set.
After the Royal Sun's half-hour set had ended, Sun Daes took the stage. This UCSB-formed band showcased all that is right with I.V. surf rock, delivering a high-energy, well-synchronized show. With warm, resonating guitars and soulful vocals reminiscent of the Arctic Monkeys, the group emanated feel-good summer vibes that carried through the night, especially during their performance of "San Francisco." These hot-blooded rockers pulled in not only the largest crowd of the evening but the most loyal, as well, with fans of all ages mouthing along to their lyrics.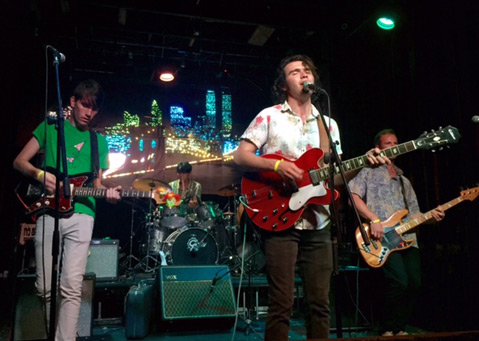 Cassandra Miasnikov