With mental-health services and tens of millions of state dollars on the line, the Santa Barbara supervisors brought back to life a wing of Sheriff Bill Brown's proposed northern branch jail ​— ​a project thought to be dead three weeks ago.
Late last week, Supervisor Steve Lavagnino tacked on an addendum to Tuesday's agenda, proposing that the county executive staff research alternatives to the treatment and reentry project, better known as STAR, killed by a 4-1 vote on November 17.
That 228-bed facility, Brown promised, would be especially suitable for the mentally ill. He secured a $38 million, highly sought-after grant to pay for 90 percent of the construction costs. But after nine contentious meetings since 2013, the supervisors balked at the sheriff's ever-changing plans. Last month, they rejected the project, arguing the county is too financially strapped to pay the $2 million annual operating costs and that jail cells are no place for the mentally ill.
But before the county sent a letter to the state to give the money back, Brown began to finagle a way for the county to keep the money. "Is there a way we could rework the proposal … in such a way that it would be more acceptable to the board?" he asked rhetorically in an interview before the vote. Brown did not speak at the meeting; he didn't have to. The board voted 4-1 to direct staff to see if possibilities exist to keep the $38 million on the table.
Supervisor Janet Wolf ​— ​who has been the sheriff's sharpest critic ​— ​was the sole, vocal dissenter. She contended Lavagnino's move undermined transparent public policy and that the supervisors could have decided to look at STAR alternatives at the last meeting. "We did not take [the option] as a board," she said. The supervisors already spent countless hours ​— ​besides the thousands of staff hours ​— ​discussing the rejected proposal.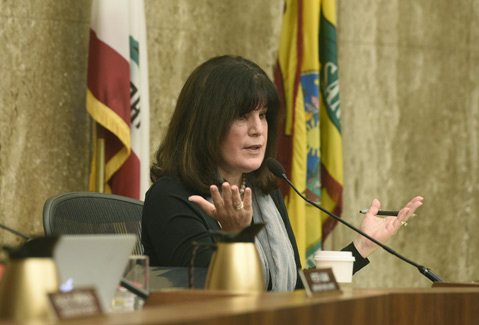 By Paul Wellman