The statistics are difficult to swallow: According to the Humane Society of the United States, 3.4 million cats and dogs were euthanized in 2013. Many of those critters were put down for no other reason than overcrowding. It's a sad, seemingly endless cycle that the animals are powerless to change. However, humans can ameliorate the crisis, and fortunately many do, providing love and care and homes for shelter denizens.
Santa Barbara County has its fair share of success stories where shelter staff and the community come together to give a second life to the incarcerated. It's a reality that keeps volunteers and animal lovers motivated to continue campaigning and caring for our furry friends. Read on for a handful of happy-ending tales submitted by staff at Santa Barbara shelters.
• Santa Barbara County Shelters: Check out the following list for where to find your next pet.
• Anemia in Dogs and Cats: Dr. Carol Haak explains the causes and symptoms of this common problem.
Radar
This is the story of Radar (pictured above with owner David Silverander), a 2-year-old German shepherd/Malinois mix. Radar came from a county shelter up north, where he was out of time on death row. The good people at that shelter contacted DAWG in hopes that we could save him.
Radar was deemed unadoptable due to his severe dog-aggression issues, so our trainer/behaviorist Brian Glen worked with him on dog socialization. Glen's initial response to Radar was that he was highly trainable. He introduced the big German shepherd to our little dogs and took him on "pack walks" with our big dogs.
Soon, Radar turned the page onto a new life, showing no aggression, just an abundance of energy and over-excitement that would lead to frustration. We sent Radar off to his forever home with an amazing adopter. Radar gets a second chance at life, and his new owner gets a hiking buddy, a running buddy, a biking buddy, and a lifelong companion. This is what we live for here at DAWG.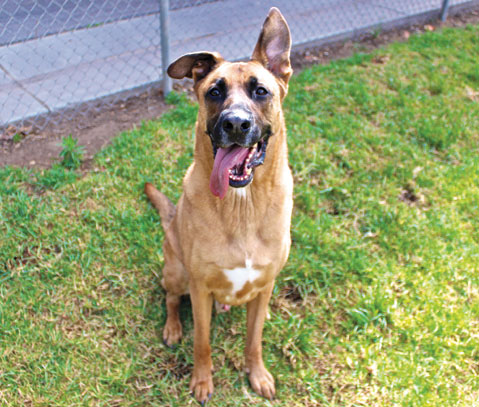 By Courtesy Photo